Simeone credits Xavi's defensive work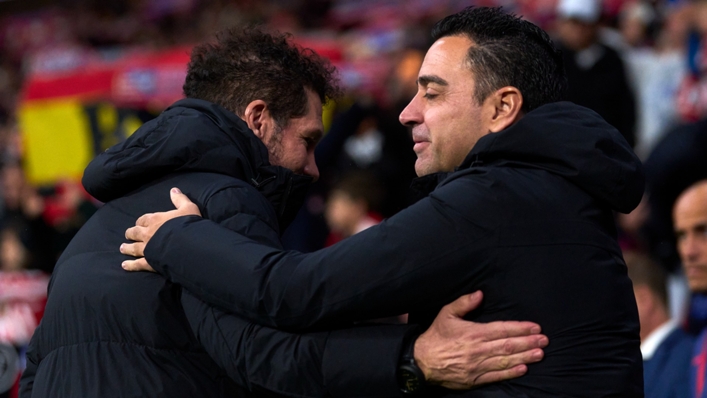 Diego Simeone is no stranger to defensive organisation, and the Atletico Madrid boss has been impressed by Xavi's work in making Barcelona difficult to break down this season.
Barca are closing in on their first league title since the 2018-19 campaign, sitting 11 points clear of Real Madrid at the top of LaLiga with nine games of the season remaining.
While Xavi's side have been criticised at times for a perceived failure to employ an entertaining style, they have conceded just nine goals in 29 league games this term.
The Blaugrana have kept a remarkable 22 clean sheets in LaLiga this season, at least four more than any other team in Europe's top five leagues (Lazio are second with 18).
At Saturday's pre-match press conference, Simeone was asked whether Atleti and Barca had become stylistically similar as a result of Xavi's work.
"I like this Barcelona," Simeone said. "It's a different Barcelona style. They have been growing and have had a great season.
"They have improved in defence thanks to the characteristics of their players, and improving the defensive part has added more value to Xavi's work."
Atleti have won six successive league games to move within two points of second-placed Real Madrid, and Simeone believes their displays have not been met with the credit they deserve.
"When we started the season we were not in the best way. But if we go back a bit, to when we won LaLiga, we did it by playing very well," Simeone added.
"Sometimes a stigma is generated. Sometimes people don't watch the games and they give their opinion just to give their opinion.
"Like Barca improving defensively, or Manchester City – who have given a very good defensive performance – we have improved, we have grown."
Simeone has overseen 15 trips to Camp Nou without winning as Atleti boss, more matches than he has taken charge of at any other venue since taking over Los Colchoneros in 2011.
Opposing boss Xavi, meanwhile, has won both of his league games against Atleti since taking the reins at Camp Nou, and he could become just the second coach in Barca's history to win his first three meetings with Atleti in LaLiga (after Luis Enrique).
Tags