Durant looking forward to first home game in Phoenix
Liam Phillips
Stats Perform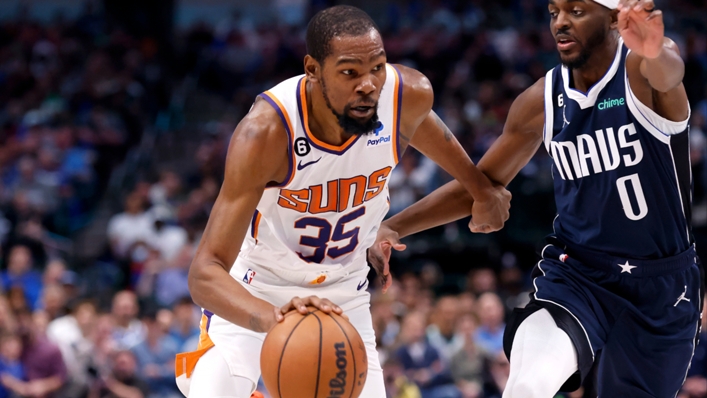 Kevin Durant is glad he got the opportunity to get his "feet wet" on the road with the Phoenix Suns ahead of his home debut Wednesday against the Oklahoma City Thunder.
The Suns went 3-0 with Durant in the line-up during their recent road trip, defeating the Charlotte Hornets, Chicago Bulls and Dallas Mavericks by a combined margin of 37 points.
Their newly acquired two-time NBA Finals MVP averaged 26.7 points, 7.3 rebounds and 3.7 assists during those games, shooting 69 per cent from the field, 53 per cent from deep and 88 per cent from the free throw line.
Speaking to the media after Tuesday's practice, Durant spoke about how comfortable he is fitting into new situations, highlighting the fact that "everyone runs the same stuff".
"I'm at this point in my career where I've played with some of the best players to ever play," he said. "I've been in Olympic teams, I've been on some of the best All-Star teams, and I've figured out the best way to kind of fit in with a group of guys.
"Once you start to understand the terminology it makes it a bit easier, and you realise everyone runs the same stuff, it's just different players you put in those spots.
"Having communication with your team-mates every day is the most important piece of it all."
Durant, who is coming off his 10th All-NBA selection, touched on what has impressed him with Devin Booker, who emerged as an All-NBA First Team member last season after never previously making the second or third teams.
"'Book' understands exactly what he needs to do every time out on the floor, and once you prepare the right way and know your role, the game can be easy," he said. "The game is easy for Book, and he makes the game easy for all his team-mates as well.
"We've got such an unselfish team, and we want to move the ball a lot and get everybody involved, but he's such a gifted, talented offensive scorer that he can make plays for others, but he can also make plays for himself.
"I felt like a couple of times last game he had a one-on-one opportunity with not a lot of help and he was going downhill, getting whatever he wanted. So we want to exploit that as much as possible, but he's going to play the right way regardless.
"There's going to be more times in the future where I'm probably going to have to tell him to shoot, but that's always a good thing when your best players are willing to give up the ball."
Having only played three games since being traded from the Nets a month ago, Durant said he is looking forward to getting "back to normal".
"I'm glad I was able to get a couple on the road to get my feet wet because I know it's going to be loud in [Footprint Center]," he said. "I'm looking forward to our fans. I know they can't wait to see us out on the floor.
"I'm just trying to get back to normal as soon as possible. I'm glad I'm playing again, and things will get back to normal."
Tags