Ecclestone believes Hamilton could retire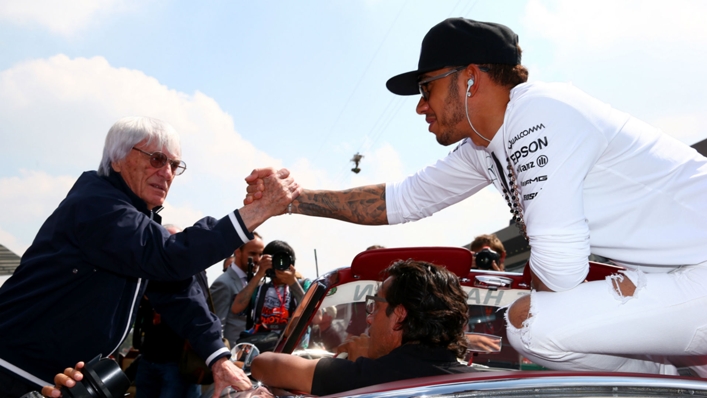 Bernie Ecclestone believes Lewis Hamilton could be poised to retire from Formula One after the heartache of losing the world championship in Abu Dhabi.
Long-time F1 supremo Ecclestone, who left his role as chief executive in January 2017, said he had spoken to Hamilton's father, Anthony, since the British driver was pipped to title glory by Max Verstappen.
Although he gained no direct insight into the seven-time world champion's future plans from that call, Ecclestone told Swiss newspaper Blick he thinks Hamilton may have made his mind up to quit.
"I don't know it, but I don't think he's coming back," Ecclestone said. "His disappointment is too great. And you can somehow understand it. Now it would be the time, with seven world championship titles like Michael Schumacher, to tackle his dream of becoming a fashion entrepreneur."
He said of his telephone call with Hamilton's father: "I immediately felt that he wouldn't answer a question about his son's future. So we only talked about business."
Mercedes superstar Hamilton, who turns 37 in January, was struck by deep disappointment when he was denied a record-breaking eighth F1 title in controversial fashion at the season-ending Abu Dhabi Grand Prix on December 12.
Verstappen, on new tyres, passed race leader Hamilton on the final lap after the safety car had been deployed when Nicholas Latifi crashed. Hamilton and Verstappen had been tied on points coming into the race, making it a straight shoot-out for the championship.
The decision-making from race director Michael Masi that allowed for one lap of racing in such circumstances came in for criticism, particularly from the Mercedes team, but appeals to race stewards failed to change the result.
Hamilton's Mercedes boss Toto Wolff has since said he hopes the man whose F1 career began in 2007 will not quit the sport after this setback.
The former McLaren star is due to partner George Russell next season, with the campaign scheduled to begin in Bahrain in March.
Hamilton is the only driver to achieve both 100 F1 poles and a century of race wins, and Wolff said he "would very much hope" that his star driver would be back for more in the new year.
Speaking last week, after Mercedes decided against taking an appeal to the courts, Wolff said: "It is going to take a long time for us to digest what has happened. I don't think we will ever get over it. That's not possible – and certainly not as a driver."
Ecclestone suggested Hamilton "could only lose" if he returns to the cockpit in 2022, and the 91-year-old has been impressed by the rise of Verstappen.
"With him, Hamilton has finally found an equal opponent after many years," Ecclestone said.