'I don't care' claims Alonso after penalty snatches away 100th podium
Patric Ridge
Stats Perform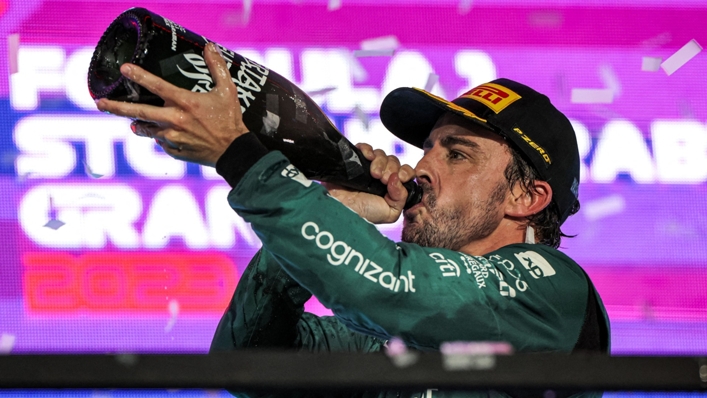 Fernando Alonso hit out at the FIA after he was denied a 100th podium of his Formula One career due to a time penalty.
Alonso finished third in the Saudi Arabian Grand Prix on Sunday, seemingly grabbing his second podium of the season for Aston Martin.
The Spaniard had taken the lead from polesitter Sergio Perez early on, yet was penalised for an incorrect starting position on the grid.
He recovered to cross in third, yet an investigation after the race concluded that one of the team's engineers had placed the rear jack on the back of Alonso's car just before that five-second penalty had been served in the pit lane.
Alonso was subsequently handed a 10-second penalty that saw him drop out of the podium places, with Mercedes driver George Russell benefiting.
Aston Martin might well appeal the decision, and Alonso suggested he cares little about the FIA's ruling after he already celebrated becoming only the sixth driver in F1 history to claim 100 podium finishes.
"I was good and it doesn't hurt too much to be honest," he told Sky Sports. "I was on the podium, I did pictures, I took the trophy, I celebrated and now I have apparently three points less – I don't have 15, I have 12.
"I think it is more FIA, poor show today. More than disappointment from ourselves. You cannot apply a penalty 35 laps after the pitstop.
"They had enough time to inform me about the penalty because even if I knew that maybe then I open up 11 seconds to the car behind.
"I know the team is trying to review it with the stewards now because we didn't understand fully the second penalty.
"I care, but I don't care that much as I have celebrated and now I have three points less? OK, let's try and recover in Australia."
Aston Martin team principal Mike Krack told Sky Sports: "First of all we need to look at the videos what happened exactly so right now I can not really say how this is going to go.
"The regulation said you may not work on the car, it's maybe a little bit ambiguous but this is something we need to look at, we have a clear procedure for it, a countdown, and everything was fully safe. No advantage came from it so let's see how this develops."
Russell, who claimed third place, described the decision to penalise Alonso as "harsh", though he added: "They are the deserved podium finishers but I will take the extra trophy and not complain too much!"
Alonso, meanwhile, reflected on a strong weekend as Aston Martin look ahead to the next race in Melbourne at the start of April.
"We had some concerns about Jeddah after being very strong in Bahrain but arguably here, we were faster than Bahrain on race pace," he said.
"We could control the Ferraris, we could control Mercedes and I don't want to be too optimistic but it looks pretty good for the future."
Tags