Leonard ready to go after over a year of rehabilitation
Liam Phillips
Stats Perform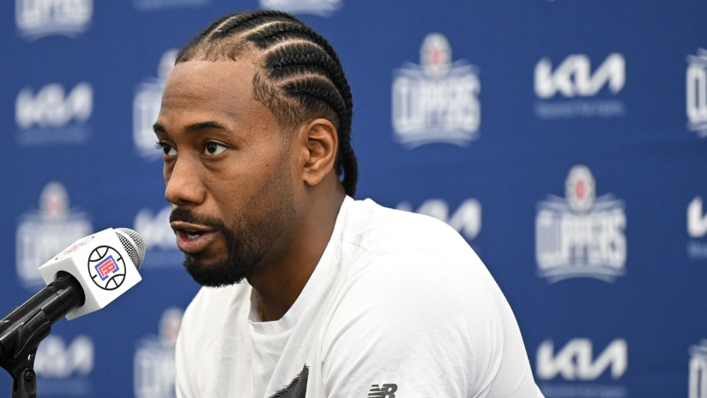 Kawhi Leonard shared that he will be ready for the start of training camp, and that he would have been healthy enough to play in last season's NBA Finals had the Los Angeles Clippers made it that far.
All eyes were on the Clippers' franchise player during Monday's media day, with Leonard recently being cleared for five-on-five play more than 14 months after tearing his ACL in the 2021 playoffs.
Oddsmakers have the Clippers as the second-favourites to win the Western Conference, trailing only the reigning champion Golden State Warriors. Their success is ultimately reliant on Leonard's health, with the two-time Finals MVP with the San Antonio Spurs (2014) and Toronto Raptors (2019) trying to become the first player to ever win the award with three different teams.
Speaking about how he feels physically after such a long rehabilitation period, the two-time Defensive Player of the Year highlighted all the time he has spent in the weight room and how it has him feeling stronger than ever.
"I feel stronger, for sure," he said. "It's been, what, 14, 15 months of no basketball – well, playing in an NBA season for me, no basketball.
"That whole 13-, 14-month process is just lifting weights and getting stronger. I definitely got a lot stronger.
"Right now I feel good in my workouts, weightlifting. I don't feel like I have a subconscious mind of not jumping off my leg, per se. I feel good. We'll just see how the season goes."
In what is a good sign for his chances of being at 100 per cent for the opening day of the season, Leonard shared that "if [the Clippers] would have made it to the Finals last year, you would have seen me playing".
Around Leonard, the Clippers have assembled arguably the deepest roster in the NBA, with running-mate Paul George being joined by a bevy of capable perimeter options, including former All-Star John Wall, starting-quality guards Reggie Jackson and Luke Kennard, starter-level wings Norman Powell and Robert Covington, as well as rotation pieces Marcus Morris Sr, Nic Batum and Terance Mann.
George compared their wealth of talent to his experience with the United States national team, and said the key will be figuring out how to mesh successfully and find roles for everyone.
"I think really [we will use] that mindset of Team USA," George said. "You take the best guys, and of course everybody is good and they're all on teams, everybody is the star of their own teams.
"But when you put us all together, it's how do I make you better now and how do I shine with this environment.
"It should be a lot of fun with this team, and there should be a lot of good nights being a Clipper fan."
Tags