Hussain urges McCullum and Stokes to challenge each other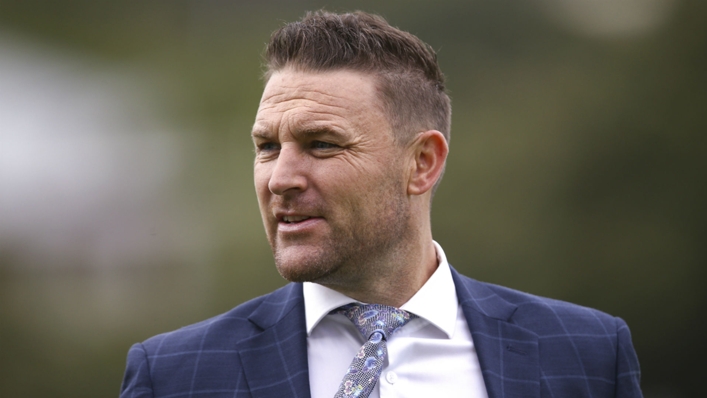 New England Test head coach Brendon McCullum and captain Ben Stokes must challenge each other to transform the country's red-ball fortunes, says Nasser Hussain.
McCullum has been tasked with fixing the failings in the five-day game of England, who will be captained by Stokes after Joe Root resigned in April following a run of one win in 17 Tests.
Former opener and now England men's managing director Rob Key has entrusted McCullum with the Test side despite all the 40-year-old's coaching experience coming within white-ball franchise cricket.
McCullum has coached Indian Premier League side Kolkata Knight Riders and their Caribbean Premier League affiliate Trinbago Knight Riders, but has playing experience in Test cricket with New Zealand.
Indeed, McCullum captained New Zealand's red-ball side through a transformative period and played in 101 Tests for his country.
Former England captain Hussain believes he and Stokes can take England in a different direction.
"It's a bold, brave, exciting decision," Hussain told Sky Sports.
"It's a little bit left field, I think most people expected maybe a Brendon McCullum type to come into the white-ball team and work with his mate Eoin Morgan and possibly somebody with more experience in red-ball cricket like a Gary Kirsten come in for the Test match format.
"But Rob Key sees it differently, I think both Stokes and McCullum are cut from the same cloth and Key has that sort of idea that he wants a positive captain and positive coach taking the team in a new direction and McCullum definitely fits that bill.
"That captain-coach relationship - they do have to sing off the same hymn sheet, they have to both constantly be working together.
"They also have to challenge each other, I'll be perfectly honest.
"It's not a case of Stokes and McCullum always agreeing with each other. It's also how you describe positive cricket really, it's not reckless cricket.
"I nearly picked Rob Key up on this the other day, he talked about brand of cricket, he wants England to play a positive brand of cricket.
"I think England fans and myself want to see England play a winning brand of cricket, however that's done, go out and start winning Test matches. If it is positive and exciting, double bonus. But winning is the most important thing.
"It's hugely exciting, to have Stokes as your captain, McCullum as your coach, it will be a very exciting few months and years ahead."
McCullum and Stokes' first task sees the pair host the country of their birth, New Zealand, in a three-Test series that starts on June 2.