After a dismal weekend for England, Hit For Six looks at the fallout for the men's side and ahead to the women's Test with India. There is also some amusing footage from Bangladesh after Shakib Al Hasan lost his rag.
Stop pampering the players
Former England skipper Michael Vaughan has told the ECB to stop being 'soft' with the current generation of stars.
As the fallout continues after Joe Root's side were hammered by New Zealand in the second Test at Edgbaston, Vaughan has questioned decisions made by the management rather than the young batsmen.
Despite playing eight Tests this year, including a four-Test series in India, Root has not had his strongest side at his disposal on any occasion.
Jos Buttler, Chris Woakes, Sam Curran, Moeen Ali and Jonny Bairstow were not considered for selection after arriving home from the postponed Indian Premier League in early May before a 10-day quarantine.
The need for bio-secure bubbles mean the ECB are keeping a close eye on players' welfare, but Vaughan believes it has gone too far — and the repercussions are being felt further down the game.
Writing in the Telegraph, he said: "It is madness that Trent Boult went home from the Indian Premier League when it was halted last month because of Covid-19, flew 10,000 miles to the UK and played at Edgbaston, while Chris Woakes lives five miles up the road in Birmingham and was not playing.
"I know we are in an era of looking after players' welfare, and that is right, but I think we are pampering them too much. I hear about too many players pulling out of games and not playing.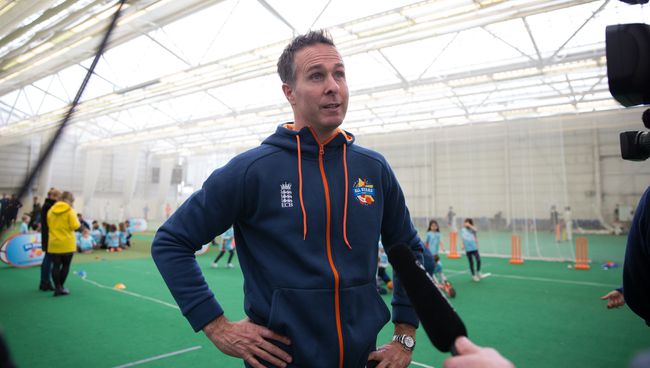 "There are Yorkshire players pulling out of the Friday night Blast game this week to join up with England on Saturday. Why? What is it about cricket they don't like? Why would you not want to play a Twenty20 on a Friday night?
"They should be made to play. They are not part-timers. They are full-time professionals. These are the best years of their lives, they are doing the best job in the world and something they are good at: playing cricket.
"But the tone has been set at the top, with England players resting from too many Test matches this year. It makes it OK for others to think: 'I don't need to play.'
"England have just been a bit soft with the players. They should be tougher. Play cricket, don't sit on the sidelines."
Alastair Cook, England's all-time leading run scorer, was more concerned with the mentality of the current top-seven.
"The problem I have with this batting line-up is when the pressure comes on they can't handle it, they make the wrong decisions," he said.
"(Rory) Burns, 85 runs behind, he nicks a second ball playing a really big drive. That isn't technique, that's mental frailties under pressure.
"They're going to have to look at themselves, assess the situation and be honest in these next five or six weeks. This is what Test cricket is: cricket played under pressure. They need to find a way."
Women's test held on used pitch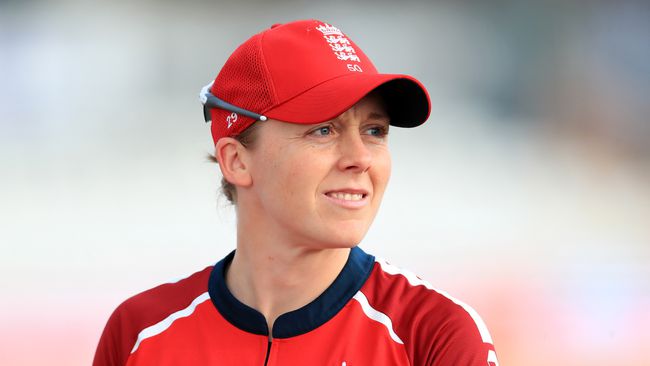 Preparation for England Women's one-off Test match against India has been overshadowed by news it will be played on a used pitch at Bristol.
Unlike their male counterparts, the vast majority of women's international games are ODIs and T20s.
Just eight Tests have been played in the past decade, with England playing four since India last took part in one back in 2014.
But England skipper Heather Knight revealed it was a used pitch on the eve of the game — and admitted they had tried to get that changed.
She said: "I've had a look (at the pitch which will be played on). It is a used wicket, it was used for a Gloucestershire T20 match last week, which isn't ideal. We'd like to be on a fresh pitch.
"Obviously it's unfortunate and it's not ideal and we'd rather be on a fresh one, but we don't know how it's going to play yet — it still could play very well.
"Generally at Bristol you look at the deck sometimes and it looks not great but it actually plays brilliantly. So look, it's not ideal but it is what it is and we're obviously going to have to perform as best we can on the wicket we're given."
The decision has been met with disbelief by those in the game after a similar situation arose when they faced Australia in Taunton in 2019.
Experienced broadcaster Alison Mitchell was particularly vocal in her criticism on Twitter.
"An oversight like this is indicative of the women's international game still not being considered with sufficient diligence at every turn, despire the excellent advancements and positivity," Mitchell said.
"It's another learning point, sigh. Let's hope the pitch plays better than expected."
But those involved are looking forward to getting the England whites out and playing the longest form again.
Finding the right formula to win a four-day game when they come around so rarely is not easy, admitted vice-captain Nat Sciver.
She said: "They don't come around very often so it does bring something different to training and when you're looking at tactics and stats that have been before, you can't really go on any of those because they're so few and far between, women's Tests.
"So it is a learning curve every time we start to prepare and turn our minds to it.
"We've had a practice game and we've had a few centre-wicket practices where we're just seeing what works, seeing what doesn't work."
Rain threatens WTC Final
The Great British weather looks like ruining the first World Test Championship final starting on Friday.
India take on New Zealand at the Ageas Bowl in Southampton — yet heavy rain is forecast for all five days on the South Coast.
The Kiwis used the two-match series with England as preparation and have already made a couple of big selection calls when naming their squad.
Ajaz Patel will get the nod as their spinner ahead of Mitchell Santner after he impressed in the victory over England, while coach Gary Stead revealed Kyle Jamieson may bat as high as seven as they look to squeeze their vast array of impressive seamers into the side.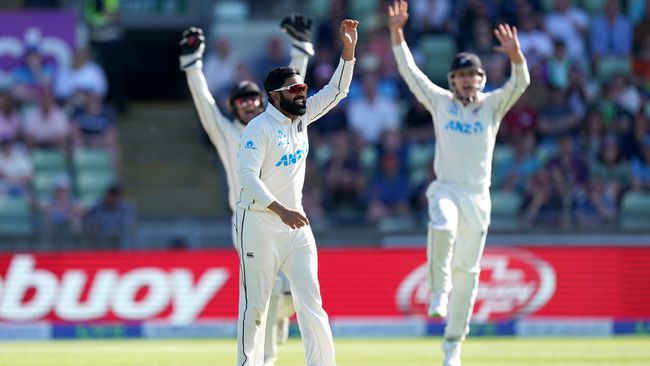 "I've got a lot of faith in Kyle. He hasn't yet done it [bat at No. 7] at Test level but he's developing nicely," Stead explained.
"In time it's ultimately where we see Kyle could hopefully end up, or certainly push his boundaries to get up at that level because that would then allow us to look at the team slightly differently in terms of the dynamic of the group.
"There's always a bit of a puzzle whether you go in with what you feel is slightly batting heavy or bowling heavy. That's the advantage of having an all-rounder in, that you can balance up the group a little bit more and that's what we are aiming to do when we select our teams."
Virat Kohli's India flew into the country two weeks ago and staged an inter-squad practice match at Southampton over the weekend.
Their expected top six was placed in one side, with their first-choice bowling attack in the other side to try and make sure they are suitably prepared.
Shakib loses the plot
Former Bangladesh captain Shakib Al Hasan has gone viral after he lost his rag in unbelievable fashion on the cricket pitch.
First, Shakib kicked the stumps in anger after an LBW decision was turned down in the Dhaka Premier League game.
But it got worse when the umpires decided to take the players off due to bad weather.
Shakib sprinted to the stumps and mouthed his discontent to the officials, before picking up all three stumps and furiously throwing them onto the ground.
The experienced all-rounder was banned for four games for his discrepancies, fined and apologised on social media after the embarrassing incident.