Herdman wants to lead Canada at home World Cup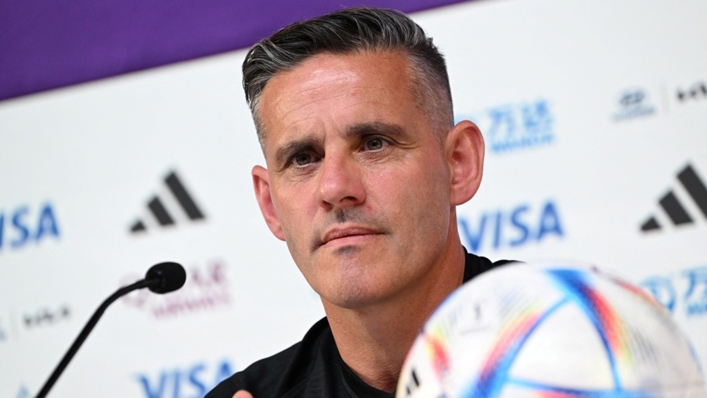 John Herdman suggested he will lead Canada on home soil at the next World Cup and says their campaign in Qatar has laid the foundations for an improved showing in 2026.
Canada impressed despite losing their Group F opener against Belgium last week, but their hopes of reaching the last 16 were ended when they surrendered an early lead in Sunday's 4-1 loss to Croatia.
Herdman's team are looking to avoid the ignominy of matching El Salvador's record for the most World Cup games played without avoiding defeat (six) when they face Morocco on Thursday, but the Reds' dynamic style has won them admirers on their first appearance at the tournament since 1986.
With Canada set to join Mexico and the United States in hosting the next World Cup, Herdman is focused on helping the side continue their upward trajectory.
Asked at Wednesday's pre-match press conference whether he would be coaching the team in 2026, Herdman said: "I will be tomorrow. I will be excited tomorrow, absolutely.
"It's been 11 years of work in this country, and I have been pioneering for a long period of time.
"You will not find anyone as passionate as I am about this programme, or about these players or about the staff.
"You will not find anyone as passionate, who wants to take the company to that next level. You'll not meet anyone that's experienced this moment with this team, and the learnings that I'll take from this to take into the next one.
"The one thing you've seen from us is we've always come back strong. In [the Women's World Cup in] 2015, we finished sixth.
"In the women's Olympics in 2016 we got back-to-back podiums, for the first time in over a century. Five years later, they take a gold medal [at the delayed Tokyo 2020 Olympics].
"We came to this World Cup and [Belgium coach] Thierry Henry told me this team played them off the park.
"I'll take that. Because if that's our foundation, we've got a great four years ahead, and I can't wait to get after it."
Canada have not beaten Morocco in the teams' three previous meetings (D1 L2), and they suffered a comprehensive 4-0 defeat when they last faced the Atlas Lions in a 2016 friendly.
Tags