Hayes hails impact of Eriksson and Harder at Chelsea
PA Sport Staff
Press Association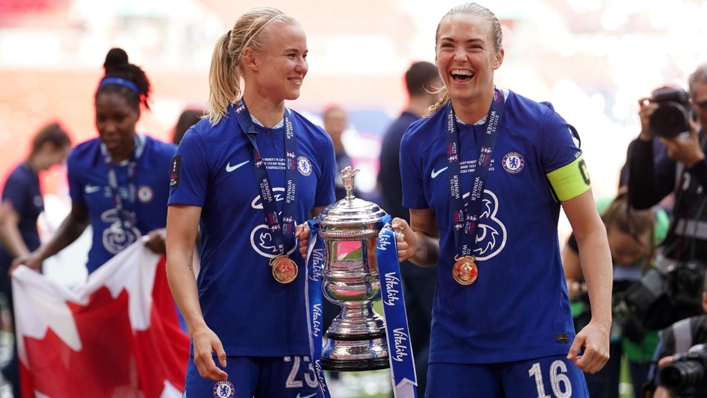 Emma Hayes believes there are "not enough words" to describe the impact departing duo Magdalena Eriksson and Pernille Harder have had at Chelsea.
The duo announced on Thursday that they will both leave the club at the end of the season.
Captain Eriksson joined Chelsea in 2017 and has made 149 appearances as well as lifting four WSL trophies, while Harder is aiming to win her third WSL title since arriving at Kingsmeadow in 2020.
The Blues have two games remaining in the race for the title, starting with a clash against rivals Arsenal on Sunday, and Hayes paid tribute to Eriksson and Harder's contributions.
She told a pre-match press conference: "There's not enough words to describe the impact, Magda particularly because she's been here longer, they have had on the club.
"We had a chat about it today and people don't really realise what this culture is unless you're in it and it's a culture that Magda, especially alongside me, has driven the standards.
"I'd say Millie Bright, too. The three of us have been the standard bearers.
"I know how emotional Mags will get with things. That was a really tough day for her yesterday and I know she's probably also glad it's out there.
"For us as a football club we choose to manage things like this.
"We don't believe there has to be bad endings, we think our experiences together have been positive and they've been worthwhile and meaningful, so we don't have to be cynical about it, we don't part in bad ways.
"I think also, for Pernille, she's one of the most eccentric characters I've ever coached.
"I will miss her eccentricity, no question, her attention to detail, her thirst for winning.
"The both of them are going to provide their next club with an absolute lot of quality and we've lost a lot, no doubt.
"But we're equally happy for both of them and we're very proud of both of them for everything they've done here."
Hayes provided an update on Bright, who has been out with a knee injury sustained in the Champions League quarter-final first leg against Lyon.
Although the England defender remains sidelined, she is optimistic the defender may make the upcoming World Cup.
Hayes said: "Millie's still on crutches. I think she'll be OK for this summer's World Cup.
"But when you have surgery, the reality is she's had her knee cleaned out and sometimes you give or take a week or two.
"It might be a little bit earlier, it might be a little bit later, so I expect Millie to make the World Cup, but there's no guarantees of anything in life.
"I know she saw the surgeon a couple of days ago and they were really happy with it, so I have no reason to believe she won't make it."
Hayes also confirmed Fran Kirby has had successful surgery, with the England midfielder already ruled out of the World Cup.
She added: "The piece of bone's been taken out of her knee and she will be back in with the group in pre-season.
"I think she will need that pre-season, something she didn't get last year.
"I'm excited. Without that knee problem we would have had her back but it was one that unfortunately we couldn't avoid the surgery in the end."
Tags