Hamilton taking a break from 'toxic' social media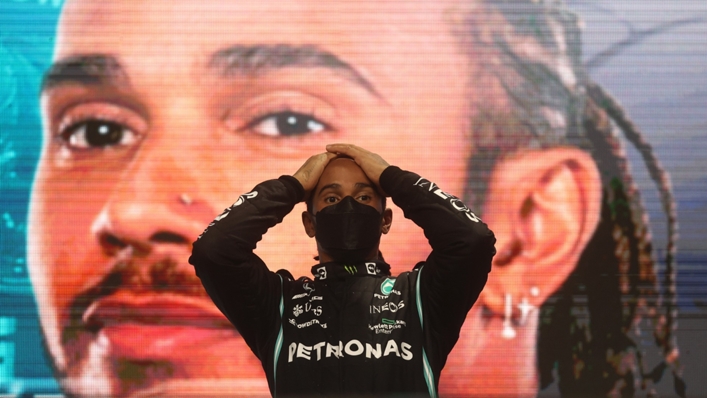 Lewis Hamilton is relaxing at the ski slopes and doing "fine" after losing out to Max Verstappen in the battle for the Formula One title, his brother Nicolas has said.
Seven-time champion Hamilton was denied a record-breaking eighth title when he was beaten in a controversial finish to the second-ending Abu Dhabi Grand Prix on December 12.
Mercedes were furious with how race rules were applied in a safety-car situation and challenged the result, believing Hamilton was unfairly denied victory in the race and the championship when Dutchman Verstappen passed him on the last lap.
The crushing blow has led to speculation Hamilton could retire from motor racing, with the 36-year-old and his team left distraught by the outcome.
Former F1 chief Bernie Ecclestone last week cast doubt on whether Hamilton would return to the sport in 2022, when he is due to partner George Russell for Mercedes.
Since being denied another title, Hamilton has gone quiet on social media and stopped following the select few Instagram accounts that he previously watched.
But Nicolas Hamilton says his superstar brother is merely unwinding with family, saying on livestreaming service Twitch: "Lewis is fine. I think he's just having a bit of a social media break which I don't blame him for.
"Social media can be a very toxic place. But he's cool though. He's fine. Yeah, he's all right. He's watching the kids ski at the moment."
Hamilton also missed out in the F1 team principals' driver of the year vote, coming in second to champion Verstappen.
The result of a poll of team chiefs was revealed on the official F1 website on Monday, with Red Bull star Verstappen top of that particular podium too.
With principals appraising drivers based on the race system, where first place earns 25 points and 10th takes only one, Verstappen scored a total of 213 points, with Hamilton scoring 192 in second place.

Team principals' driver of the year result: 1. Max Verstappen 213, 2. Lewis Hamilton 192, 3. Lando Norris 110, 4. Carlos Sainz 85, 5. Charles Leclerc 70, 6. Fernando Alonso 69, 7. Pierre Gasly 64, 8. George Russell 44, 9. Valtteri Bottas 43, 10. Esteban Ocon 41.
Tags