Hamilton sees progress but Wolff still determined to challenge for wins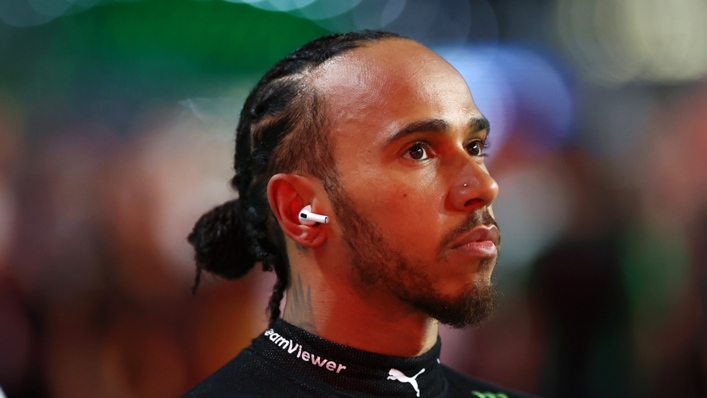 Lewis Hamilton feels Mercedes have shown progress after the Saudi Arabia Grand Prix but Toto Wolff is still determined to see the team challenge for victory.
The Briton finished fifth in the second race of the season, improving on his seventh-place position on the starting grid as Sergio Perez led a one-two Red Bull lockout.
Team-mate George Russell meanwhile provided the Silver Arrows with their first podium of the year, after he was elevated to third following a penalty against Aston Martin's Fernando Alonso.
After a build-up dominated by the topic of the seven-time world champion's future, Hamilton acknowledged he was satisfied to make some steps in the right direction, no matter how small.
"We got some great points for the team," he told Sky Sports. "George got third and he did amazing. I went forwards. I'm really grateful to have come from seventh to fifth.
"The strategy didn't really work out for me, the set-up was a little bit off. [There is] lots to work on but there are positives to take away from it.
"I could only match [Russell's] pace rather than be quicker this weekend, but I'll work hard to make sure we're in a better position next weekend."
After taking fifth and seventh at the season-opening Bahrain Grand Prix, Saudi Arabia represented an improvement for Mercedes as a whole.
But Wolff is keen to see the team back among the frontrunners on the grid, stating of their performance; "We want to race for wins soon. We are [the] first loser.
"The question is what is [our] benchmark. If you look at the Red Bulls, they are just so quick. I think we understand the car more and I am looking optimistic for the future.
"We are making big elephant steps at the moment. But it is going to be a long time till we can challenge Red Bull. It is a super fun journey to climb back."
Russell, who missed out on standing on the podium before he was retroactively awarded third, acknowledges their rivals remain far ahead of the pack, but believes Mercedes are closer than many think.
"You have to give credit to what Red Bull have done," he added. "The gap they have to the rest of the field is bigger than we have seen since perhaps Mercedes in 2014. It is a serious, serious gap.
"But we know we didn't make the right decisions over the winter and we can regain some of that performance quicker than you would do ordinarily. All is not lost. We'll focus on ourselves and get the fundamentals right."
Mercedes posted a better day than rivals Ferrari, who saw Charles Leclerc forced to take a 10-place grid penalty before the race for a power unit change.
The Monegasque driver finished seventh, one place behind team-mate Carlos Sainz Jr., leaving team principal Frederic Vasseur to mull over a below-par weekend.
"It's not a good result," he added. "We didn't have the pace, we have to be honest. We have positive points from the weekend.
"[But] we have to understand where the lack of performance is coming from. It is not coming from the management."
Tags