Haller never feared early retirement and wants to play 'as quickly as possible'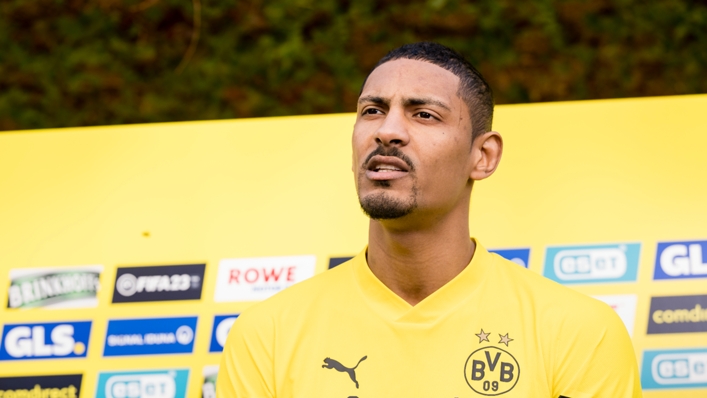 Sebastien Haller never feared he would be forced to retire and wants to return to action "as quickly as possible".
The Ivory Coast striker joined Borussia Dortmund from Ajax ahead of this season but is yet to feature for the Bundesliga side after discovering a malignant tumour during pre-season testing in July.
Haller underwent two surgeries and chemotherapy, with Dortmund chief executive Hans-Joachim Watzke stating the striker could return after the mid-season break.
The 28-year-old was present as Dortmund returned to training for the first time after the World Cup last week, although he was being "carefully introduced".
In comments to the media on Monday, Haller said: "I want to play as quickly as possible. There are no limits and restrictions on my involvement unless the medical staff tell me otherwise.
"[Returning is the] best feeling I could have. I didn't know what the future will bring, but I focused every day on staying fit.
"I can do everything now that I used to do before; that gives me great confidence.
"I took only 19 days off in the six months. It was hard, but it's my job and I love it."
Haller – who scored 34 goals in 43 games for Ajax last season before joining Dortmund for a reported €34.5million fee – also said he had never had concerns about his career coming to a premature end.
"[Retiring] was never on my mind," he said. "I had the mindset of looking forward and taking every day at a time. It was harder for my family, they suffered a lot because they didn't feel in control. They helped me a lot."
Also speaking at a press conference, Haller's Dortmund team-mate Marco Reus was delighted they could welcome the striker back into the fold ahead of the resumption of the Bundesliga season later this month.
"You can probably tell by my laughter, but it gives me goosebumps that he's back on the field," Reus told reporters. "I don't think he needs to say much at all, we were just so happy to have him back.
"I think we all took our hats off to the fight he put up and, above all, that he came back with a strength, with a mental strength that's really strong, and you can see it every day.
"He trains with us all the way; of course, he has a bit of catching up to do, but he pulls it off completely, and it's just a lot of fun to be back on the pitch with him, because of course he gives us a new alternative in the long run, which we perhaps don't have in our game yet.
"And that's why we're all doing well to stay calm, of course, and just give him a little bit of time until he finds his rhythm. That's going to take a little bit of time, but first and foremost just being healthy and playing what he feels most like playing."
On his own future, Reus also addressed recent rumours he will link up with Cristiano Ronaldo at Al Nassr in Saudi Arabia at the end of the season when his contract at Dortmund expires.
"I have a consultant to sort these things out," he said. "For me, it's just important that I stay in good health, that I do the complete training camp, do the games, and the rest you'll just really see in the future. But as I said, I have my advisor for that.
"Of course, you look ahead. And of course, I still have half a year left on my contract, and if I didn't worry about that, then it would be wrong.
"But actually, right now, I'm just happy to be back on the pitch and to be with the team. I mean, we are in sixth place and we really have other things to do right now. And that's where the focus is right now.
"Everything else will simply be decided in the next few weeks and months, and then we'll see in which direction it goes."
Tags