Haller hails 'unforgettable' Borussia Dortmund debut after recovering from cancer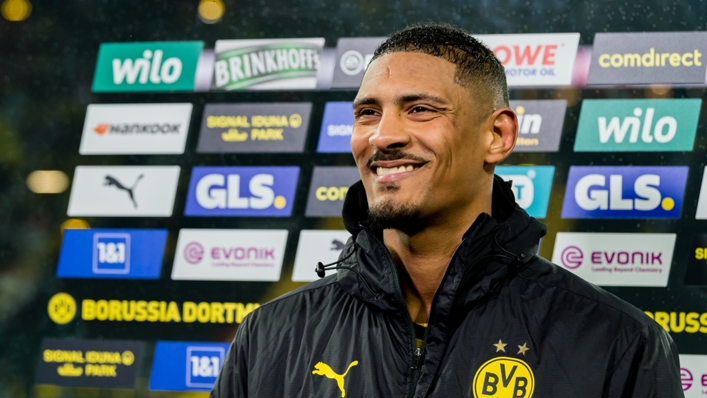 Borussia Dortmund striker Sebastien Haller called his debut an "unforgettable" experience after his first appearance since recovering from testicular cancer.
The Ivory Coast international signed for the Bundesliga outfit last year, but was diagnosed with a tumour just days after making the move from Ajax.
Having gone through several rounds of treatment, Haller scored a hat-trick in a friendly with Basel earlier this month, and enjoyed his maiden competitive outing in Sunday's 4-3 win over Augsburg.
After receiving a standing ovation following his arrival as a second-half substitute, the forward was overwhelmed by the response
"The welcome I received was something unbelievable, unforgettable," he told broadcaster DAZN. "I was just happy to be here and to take my first steps on the pitch.
"It's something we can take with the team, this atmosphere, we can use [it] to win games."
Haller, who sported boots with the slogan 'F*** Cancer*, showed no signs of serious rust during his half-hour cameo for the Black and Yellow, though he acknowledged he still has work to do.
"There are still a few things to do to reach my full fitness," he added. "For the moment I'm just focused on the work. You will see in the next weeks and months how it's going."
Dortmund lie sixth in the Bundesliga, seven points off leaders Bayern Munich in what is shaping up to be a competitive race for European qualification.
They next travel to Mainz on Wednesday before wrapping up the month on the road against Bayer Leverkusen next Sunday.
Tags