Haliburton earns first All-Star nod while Harden and Young miss out
Liam Phillips
Stats Perform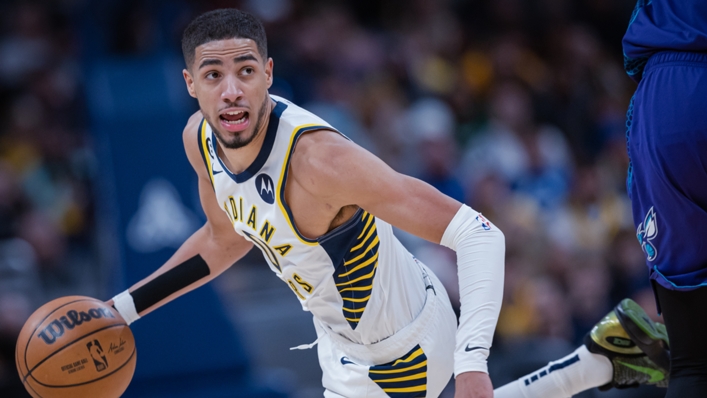 Former MVP James Harden and Atlanta Hawks franchise player Trae Young were among those to miss out on All-Star selection after the Eastern Conference reserves were announced on Thursday.
The starters had already been named a week ago, with Brooklyn Nets tandem Kyrie Irving and Kevin Durant being joined by Cleveland Cavaliers guard Donovan Mitchell and Boston Celtics MVP candidate Jayson Tatum on the East team, captained by Milwaukee Bucks superstar Giannis Antetokounmpo.
After being a surprise omission from the starters, Philadelphia 76ers back-to-back MVP runner-up Joel Embiid headlined the reserves, where he will be joined by Miami Heat center Bam Adebayo, Celtics wing Jaylen Brown, New York Knicks big-man Julius Randle, Chicago Bulls wing DeMar DeRozan, Bucks point guard Jrue Holiday and Indiana Pacers rising star Tyrese Haliburton.
It is the sixth consecutive All-Star selection for Embiid, the sixth overall for DeRozan, while it will be the second time for Adebayo, Brown, Randle and Holiday – with Holiday having to wait 10 years between drinks after his first selection in 2013.
Haliburton was the only first-time All-Star in the East, and he had to beat out some serious names to earn the honour.
The Pacers point guard is averaging career-highs in points (20.2) and assists (10.2) after being traded from the Sacramento Kings at last season's trade deadline, while his 1.8 steals per game has him sitting fourth in the league.
His 10.2 assists per game trails only Harden (11.0), while Harden is also averaging more points (21.4), rebounds (6.4 to 4.0) and owns a superior record. Harden – who had made 10 consecutive All-Star Games prior to this season – is 23-11 in his 34 contests entering Thursday, while Haliburton's Pacers are 22-18 in his 40 appearances.
The 76ers are the only of the East's top-four teams to not send two players to All-Star Weekend.
Meanwhile, Young's Hawks also sit two places above the Pacers in the standings with a 26-26 record. With 27.0 points and 9.9 assists per game, Young joins Harden and back-to-back MVP Nikola Jokic as the only players in the league averaging at least 21 points and nine assists.
Tags