Highs and lows of Guardiola's Man City tenure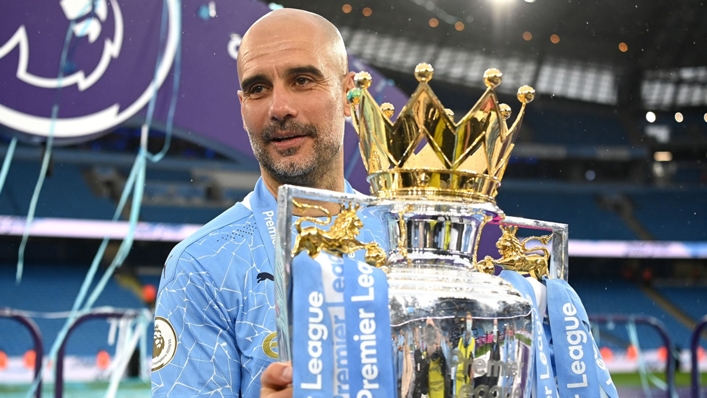 Pep Guardiola's wildly successful reign as Manchester City manager is set to continue until 2025 after he agreed a two-year contract extension at the Etihad Stadium.
Since swapping Bayern Munich for the Premier League in 2016, Guardiola has enjoyed incredible success, winning four league titles, as many EFL Cups and the FA Cup.
However, not everything has gone to plan for Guardiola in the past six years, and his desire to end a long wait for continental glory was likely a key factor in his decision to stay with the club.
Guardiola has undoubtedly enjoyed more highs than lows during his time with City, but there have been a few bumps in the road along the way.
Here, we take a look back at Guardiola's major triumphs with the Citizens, as well as some of his rare failures.
Low: An underwhelming start, 2016-17
When Guardiola agreed to take the reigns at City in 2016, hopes were high that he would make an immediate impact – his three years at Bayern had seen him deliver three Bundesliga titles, posting two of the club's three highest points tallies in their history (90 in 2013-14, 88 in 2015-16).
However, Guardiola's focus on instilling his possession-based style attracted criticism from some, particularly when he opted to replace two-time Premier League winner Joe Hart with the more cultured if erratic Claudio Bravo.
City racked up 78 points as they finished third in 2016-17, an improvement of one place and 12 points on Manuel Pellegrini's final campaign in charge, but more was expected from the former Barcelona coach.
In a sign of things to come, City saved their most disappointing display for the Champions League, exiting on away goals after a wild 6-6 aggregate draw with Monaco in the last 16.
High: City's centurions, 2017-18
If Guardiola's first season with City was largely forgettable, his second campaign at the helm was memorable for all the right reasons.
Most points (100), most away points (50), most wins (32), most consecutive victories (18) and best goal difference (+76) were among the Premier League records City claimed during an incredible season.
Buoyed by the signings of future stalwarts Kyle Walker, Ederson, Bernardo Silva and Aymeric Laporte, City ultimately finished some 19 points clear of Jose Mourinho's Manchester United.
Guardiola did not even have to wait until May to get his hands on silverware, leading City to an EFL Cup final thrashing of Arsenal in February 2018.
Low: Champions League final heartache, 2021
The main criticism levelled at Guardiola throughout recent years has been his failure to win the Champions League since leaving Camp Nou in 2012.
City's nearest miss to date came in Porto in May 2021, as Thomas Tuchel's Chelsea produced a defensive masterclass to frustrate the Premier League champions en route to a 1-0 win.
Kai Havertz's goal handed the Blues their second European crown at the Estadio do Dragao, but one of the defining images was that of Kevin De Bruyne leaving the field in tears following a heavy collision with Antonio Rudiger.
The defeat was Guardiola's first in a final with City, and just the second major final loss of his entire coaching career – after a 2011 Copa del Rey reverse to Real Madrid.
High: Domestic cup dominance, 2018-2022
While Guardiola's success is best measured in league titles, City have made several superb memories by dominating the cup competitions under his management.
Under Guardiola, City have captured the FA Cup once and the EFL Cup four times – for context, the club had only won the latter competition three times in their history before his arrival.
Guardiola's lone FA Cup triumph – sealed with a 6-0 final win over Watford in 2019 – made City the first English team to lift both domestic cups and the top-flight title in the same season.
Their rout of the Hornets also represented the biggest margin of victory in an FA Cup final since Bury beat Derby County 6-0 in 1903.
Low: Collapse at the Bernabeu, 2022
The final defeat in 2021 may be the closest Guardiola's City have come to European glory, but last season's collapse against Real Madrid was undoubtedly their most painful failure in the competition.
Holding a 5-3 aggregate lead over Madrid as the second leg entered stoppage time at the Santiago Bernabeu in May, it seemed impossible for City to fall short of a place in the final.
However, Rodrygo's incredible last-gasp brace was followed by an extra-time penalty from Karim Benzema, teeing Madrid up to claim their 14th European crown later that month.
The result handed Guardiola his sixth semi-final elimination from the Champions League – the joint-most of any coach, alongside Jose Mourinho.
High: Edging out Klopp's Reds, 2018-19 and 2021-22
All great teams need a great rival, and in Jurgen Klopp's Liverpool, Guardiola's City have certainly had one.
Since the start of the 2016-17 campaign, City have amassed an incredible tally of 568 Premier League points, putting them 38 clear of Liverpool's own impressive total.
The closest title battles between the duo came in the 2018-19 and 2021-22 seasons, with City edging out the Reds by just a single point on the final day of both campaigns.
Two of Guardiola's four league titles have thus come at the end of close-run races with Liverpool, helping him become the most decorated manager in City's history with nine major trophies.
Tags