Green: You grow to expect the greatness Curry brings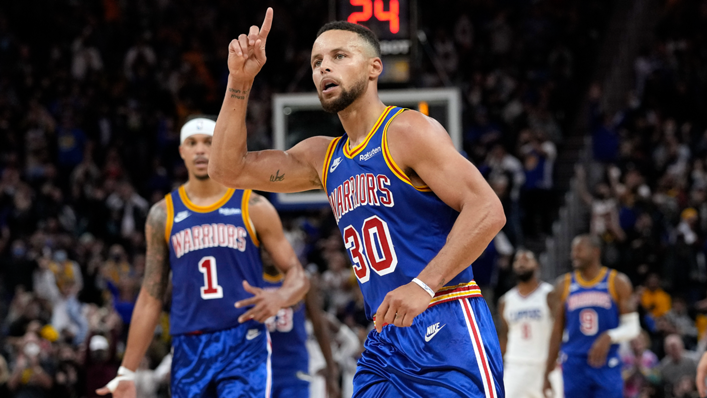 Draymond Green says he has grown to expect Golden State Warriors team-mate Stephen Curry's greatness after he scored 45 points in a 115-113 win over the Los Angeles Clippers.
Curry equalled his career-best opening quarter with 25 points as the Warriors opened up a 19-point lead before triumphing aided by the two-time NBA MVP's three-point shooting down the stretch.
The 33-year-old hit two clutch three-pointers in a tight final quarter, as the Warriors claimed a 2-0 start to the new season.
"He doesn't surprise me," Green told ESPN after the game. "That sucks because it discredits what he's doing. At the same time, you grow to expect that.
"You grow to expect the greatness that he brings out here every night. You watch the preparation to come out and do this every night, I'm not surprised. It's still always amazing to see."
Curry had struggled with his shooting in the Warriors' opening night 121-114 win over the Los Angeles Lakers. The point guard shot five-from-21 from the field, describing his performance as "trash".
The seven-time NBA All-Star was perfect from his first 10 field-goal attempts for the game, finishing 16-from-25 including eight-from-13 from beyond the arc.
"I'm always impressed but I'm not surprised," Green added. "When you come off a game like he came off on Tuesday, you know he's going to come out firing. He doesn't have too many off-shooting nights. Definitely impressed but not surprised."
Green had said earlier in the week prior to opening night that the Warriors were "nowhere near a championship team" but they have since toppled two contenders.
Curry said: "Tonight was another step in the right direction for us as a team. We're growing, we're maturing, it's obviously two games but we have a lot of room to grow."