Celtics boss Stevens throws support behind Tatum after down NBA Finals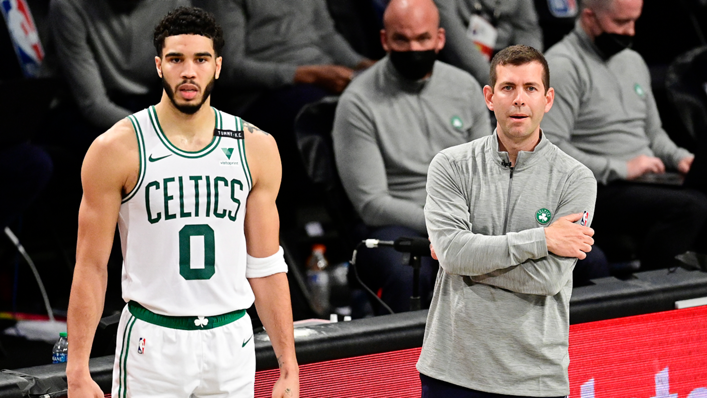 Boston Celtics president of basketball operations Brad Stevens has thrown his support behind Jayson Tatum despite the 2022 All-NBA First Teamer's down NBA Finals series.
Three-time NBA All-Star Tatum averaged only 21.5 points per game in the NBA Finals, shooting 50 per cent or better from the field only once in their 4-2 series loss to the Golden State Warriors.
Tatum also gave up 23 turnovers in the six games in the NBA Finals. The 24-year-old had a mixed playoffs, finishing with the most turnovers (100) by a single player in NBA postseason history.
However, Tatum was also outstanding in series wins over the Brooklyn Nets, Milwaukee Bucks and Miami Heat, including a remarkable 46-point haul in Game 6 of the Eastern Conference Semi-Finals facing elimination against the reigning champions.
"I just told him to go on vacation," Stevens told reporters during a videoconference call. "Go get some rest."
"This guy gave us everything he had. When you look at the minutes, when you look at the games played ... I've said this many times: He's a superstar that doesn't want to sit. He wants to play, he wants to play all the time.
"I thought that in the Finals, he would be the first to say that he would like to have some of those moments back, but I thought there were other contributing factors to how he played."
Tatum, who was named in the All-NBA First Team for the first time in 2022, averaged career-highs with 26.9 points, 8.0 rebounds and 4.4 assists per game across the 2021-21 regular season.
The Celtics small forward shot at 45.3 per cent from the field across the regular season, dipping slightly to 42.6 per cent in the postseason.
During the playoffs, Tatum averaged 25.6 points, 6.7 rebounds and 6.16 assists but with 4.16 turnovers per game.
"We're all subjective in every moment and react emotionally, but when you start looking at it objectively and more so historically, what Jayson and Jaylen [Brown] have done in the playoffs, historically at their ages, is rarified air," Stevens said.
"I think we're very cognisant of the fact that even though Jayson would admittedly not have played his best series, there's no chance we're there without him and without all of his great play all the way through.
"I think back to all of the times ... Game 6 in Milwaukee was one of the best games I've seen an individual play in my time, certainly in person and with the Celtics.
"Without that performance, we would have had this discussion a month and a half ago."