Gilgeous-Alexander, Markkanen and Jackson celebrate breakout seasons
Liam Phillips
Stats Perform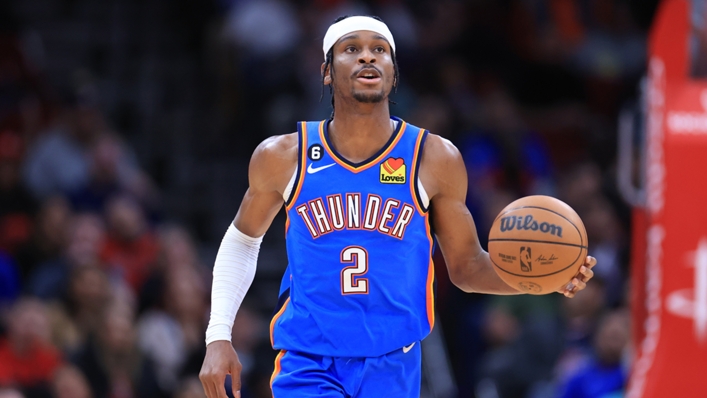 The Western Conference All-Star reserves included three first-time selections, headlined by Most Improved Player candidates Shai Gilgeous-Alexander and Lauri Markkanen.
The reserves announcement on Thursday followed the starter reveal a week earlier, where Los Angeles Lakers megastar LeBron James was named captain of the West team.
He will be joined by Dallas Mavericks MVP candidate Luka Doncic, New Orleans Pelicans powerhouse Zion Williamson, reigning back-to-back MVP of the Denver Nuggets Nikola Jokic, and Golden State Warriors icon Stephen Curry.
The Memphis Grizzlies are the only top-two team in either conference to not have a starter, but they will still send two players to All-Star Weekend with Ja Morant heading back for his second and Defensive Player of the Year favourite Jaren Jackson Jr earning his first appearance.
Jackson is leading the NBA with 3.3 blocks per game, while his 4.3 combined blocks and steals is well clear of the second-placed Nic Claxton (2.6 blocks, 0.7 steals) and Anthony Davis (2.0 blocks, 1.3 steals).
He is joined by fellow first-time selections Gilgeous-Alexander of the Oklahoma City Thunder, and the Utah Jazz's key offseason trade acquisition Lauri Markkanen.
At 30.8 points per game, Gilgeous-Alexander sits fifth in the league, while boasting elite efficiency splits of 50.5 per cent from the field, 35.9 per cent from three and 91 per cent from the free throw line. He is also the only guard averaging at least one block per game (1.1), and is the only player in the league averaging at least 1.5 steals (1.7) and a block.
While Gilgeous-Alexander's trajectory had been pointing up, Markkanen's rise has been more of a surprise.
Having never previously scored more than 18.7 points per game or shot better than 48 per cent from the field, the star of Finland's international team is now up to 24.9 points and 8.7 rebounds while shooting 52.1 per cent from the field and a blistering 43.4 per cent from deep.
Also earning a spot in the West reserves was Los Angeles Clippers wing Paul George – who leads all reserves this year with his eighth selection – as well as Portland Trail Blazers' all-time leading scorer Damian Lillard with his seventh.
The Sacramento Kings were campaigning for two All-Stars due to their impressive position third in the West, but they had to settle for just center Domantas Sabonis after point guard De'Aaron Fox was arguably the conference's biggest snub.
Fox is leading the team in scoring at 24.3 points per game and is also enjoying his first season shooting above 50 per cent from the field, while Sabonis is leading the league in rebounding at 12.4 per game to go with his 18.8 points (61.5 per cent shooting) and 7.1 assists.
Other than Jokic (10.0 assists per game), Sabonis is the only other interior player in the league averaging at least seven assists.
Tags