Ghana coach Addo always expected Son to make the grade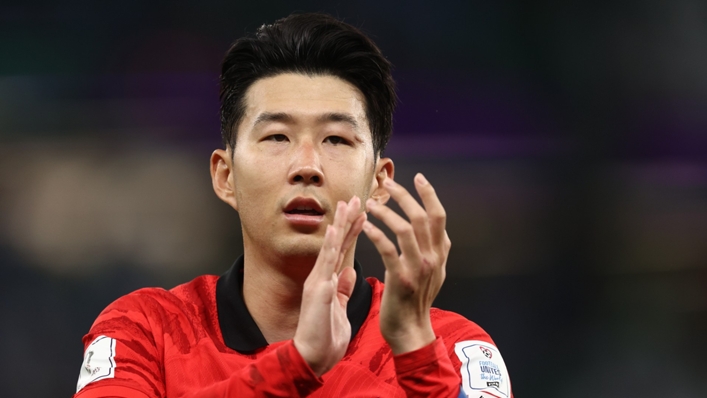 Ghana coach Otto Addo always anticipated Heung-Min Son would go on to have a great career, as he hailed the South Korea captain's character and discipline.
Korea face Ghana in their second World Cup Group H match on Monday.
While Korea drew 0-0 with Uruguay, in a game that saw only one shot on target, Ghana lost 3-2 to Portugal in a thriller at Stadium 974.
Son recovered from an eye injury to feature in Korea's opening game in Qatar, though the Tottenham forward is having to wear a protective facemask.
And Addo, who worked with Son during his stint as a coach of Hamburg's youth team between 2009 and 2015, said he identified the attacker's potential early on.
"We will try to stop every attacker. We did it well against Portugal, mostly," Addo said in a press conference on Sunday.
"Son is a very good player, operates between the lines and has a very good shot. I had the pleasure to have him [when I was] under-19 coach at Hamburg.
"Very good character, he's hard working, I really like his character, he is very, very disciplined, he became so good because he worked so hard for it.
"This is what I hope for him, and expected. You can't predict everything, especially in youth players but I saw something in him, so I proposed him to the first team squad.
"For sure, he did well there and has had a great career. I always wish him all the best, except for tomorrow.
"I am happy for him that he's healthy again, or that he can play at least. We will stop him together as a team. This is what we tried to do against Portugal. It's always about closing gaps, closing spaces and we do that together as a team."
Defeat at Education City Stadium would condemn Ghana to an early exit, though a victory might lift them as high as second in the group by the end of the day, depending on the outcome of Portugal's meeting with Uruguay.
Korea would move top of Group H with a win, and coach Paulo Bento is confident Son, who had just one attempt in the draw with Uruguay, will be fully firing.
"Because he was recently injured and he was also adapting, trying to get used to wearing the mask," Bento said of Son's performance against Uruguay.
"He needed to feel at ease with his team-mates and the opponents. From his viewpoint, I think the second game will be different, he's been able to play 90 minutes."
Tags