Nev backs Spurs for fourth after Arsenal crumble in North London cauldron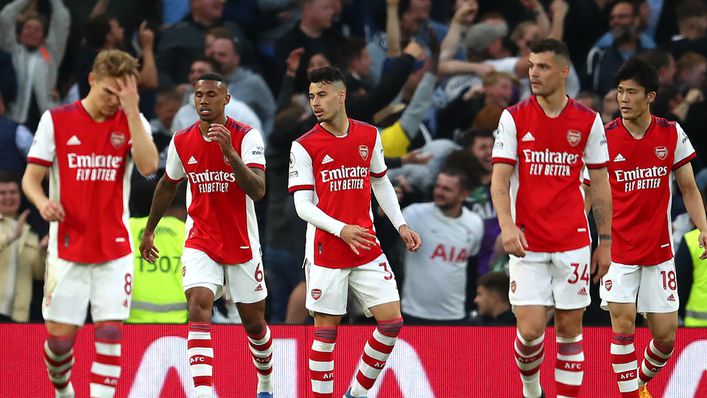 Gary Neville believes Tottenham will qualify for the Champions League after their North London derby victory over Arsenal.
Spurs thrashed the Gunners 3-0 to move within one point of their neighbours with two Premier League games to go.
Antonio Conte's men face Burnley and relegated Norwich, while their arch-rivals travel to Newcastle before hosting Everton on the final day.
And Neville believes the kinder fixture list will allow the Italian's outfit to pip the Emirates club.
The ex-England and Manchester United defender said: "You'd want Tottenham's games — Burnley at home and Norwich away.
"Newcastle away on Monday, that's going to be really tough [for Arsenal], especially if Spurs have won on the Sunday.
"Everton at home on the last day — if Everton need points, then they've got two really tough games.
"I think Tottenham will beat Burnley and Arsenal will have to win their last two matches — but I'm not sure they will.
"I might be wrong and I'm neutral between these two clubs — but I do feel now if I had to put money on it, it would be on Tottenham."
'Red-hot atmosphere'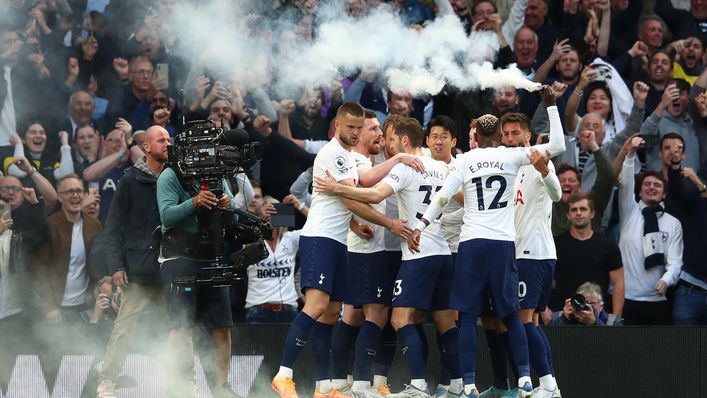 The eight-time Premier League winner was also quick to praise the atmosphere created at the Tottenham Hotspur Stadium.
After Harry Kane's penalty put Spurs 1-0 up, Rob Holding saw red for a second yellow card and the hosts swarmed all over Mikel Arteta's side.
Kane's second made it two before the break and Heung-Min Son added a third less than 90 seconds into the second half.
The fixture was originally scheduled to take place in January, but Arsenal were successful in their request to have the match postponed due to a combination of positive coronavirus cases, injuries and players called up to the Africa Cup of Nations.
Neville believes the context behind the lengthy wait for the game will have contributed to the added tension on the night.
He added: "I always felt like it would be a special game because of what was on it, why it was cancelled earlier in the season and then what's at stake.
"You never want to create a cliff edge but Champions League football or no Champions League football for Arteta and Conte, for Tottenham and Arsenal from an economic point of view is just off the scale. It's huge and the drop is so big.
"Then you've got the way the game was cancelled earlier in the season — it was all a little bit messy.
"So there was a little bit of needle coming into this game on three fronts — and it being a Thursday night game just adds to it. You don't ordinally get that, they've usually been Sunday afternoon fixtures.
"It was red hot in here in terms of the atmosphere and it got to Arsenal and those young players, they looked mentally weaker in that period of the game from 10 minutes to 35 minutes, it just got to them. It can happen."
'Big decisions went against us'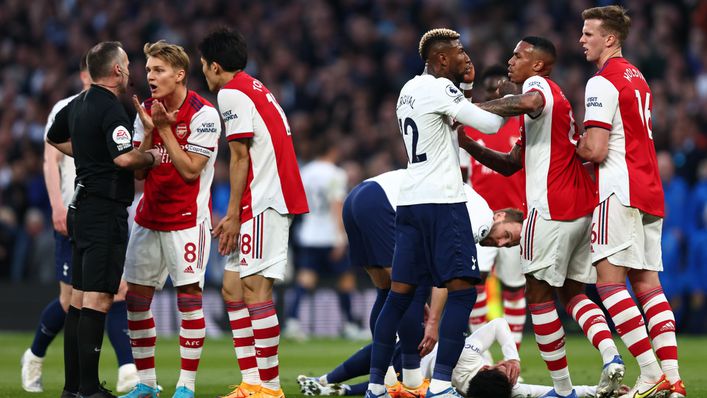 Arsenal keeper Aaron Ramsdale felt referee Paul Tierney got the big decisions wrong and that was the reason for defeat, rather than failing to cope with the atmosphere.
The England stopper, 23, said: "It's obviously not what we came here for. We came here for three points. Personally, decisions went against us tonight.
"I've not seen replays, we're an honest bunch of lads, so when we see the replays and if it is a penalty and it is a sending off, we'll be the first to admit it.
"But on first glance, I feel like the big decisions went against us and then it's an uphill battle from there."
Tags