Froome affected 'pretty heavily' by coronavirus ahead of Vuelta a Espana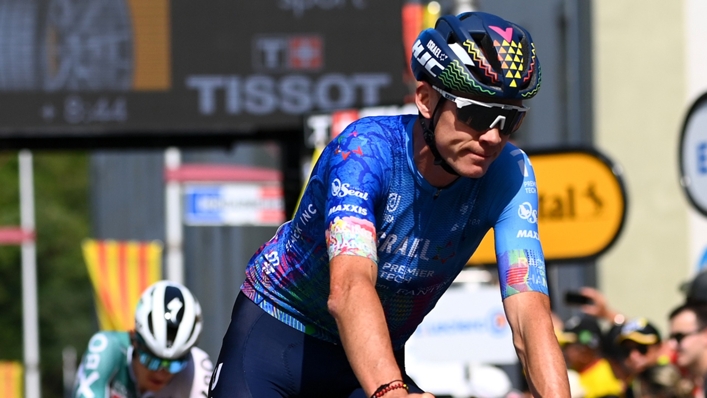 Chris Froome was "pretty heavily" affected by coronavirus and his preparations for the Vuelta a Espana have been disrupted as a result.
Froome competed at his 10th Tour de France in July but was forced to abandon the race after stage 17 when he tested positive for COVID-19.
The Israel-Premier Tech rider sat 26th overall, having achieved his best Tour stage result since 2018 when he finished third on stage 12 up the Alpe d'Huez.
Froome is a seven-time Grand Tour champion but has never been able to recover his peak performance since a crash at the 2019 Criterium du Dauphine, which left him in intensive care.
The 37-year-old now heads to Spain, where he won his first Grand Tour general classification jersey in 2011 but has revealed it has taken longer than he expected to recover from coronavirus.
Froome said in a press conference: "I felt as if I was coming into really good shape, certainly in the second and third week [of the Tour de France].
"So it was unfortunate to leave before the end of the race and not make it to Paris. But I think I was one of many who unfortunately got COVID.
"Unfortunately, it did affect me pretty heavily. I was symptomatic, probably for about 10 days. Then even after starting training, again, I was still really, really struggling to get the hard training done.
"I also had to follow the advice of the medical team, which was to not try and push it. I think a lot of people with COVID had made the mistake to try and start too early again. So it really did disrupt I guess my preparations for the Vuelta.
"I was really hoping to finish the Tour and then build on that condition almost immediately afterwards to get into the Vuelta. But unfortunately, with COVID, I wasn't able to do a lot of that work.
"Having said that, I have had a good past 10 days of training now. I'm a little bit unsure of where I'm at. I'm hoping just to survive the first week the best I can and look to really build into the race."
Froome has won the Vuelta twice, following up his success in 2011 with a triumph in 2017.
"The Vuelta is a really special race for me," he said. "The Vuelta is a race where back in 2011 I really had my breakthrough as a Grand Tour contender.
"It's a race where I love what the Vuelta tests in people. If you look at the GC battle of the Vuelta, it's brutal. Normally many more uphill finishes, many more mountain stages than other Grand Tours. It's a race that I've always enjoyed."
Tags