Venezia: From bankruptcy to global fashion icon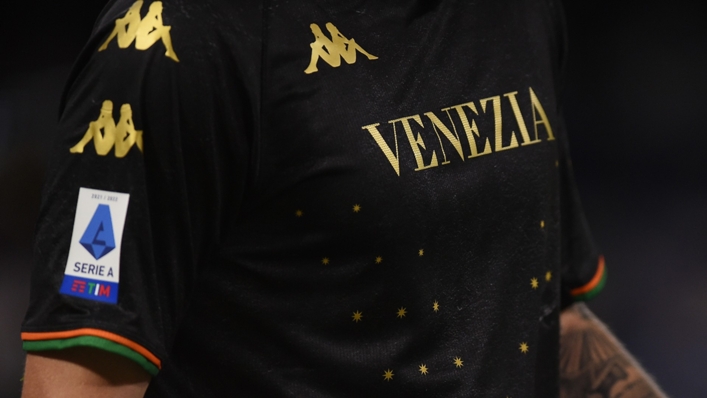 If you want a true renaissance team, one that epitomises a city, look no further than Venezia.
From bankruptcy and the lower echelons of Italian football to a global fashion icon, the small side from the iconic city of Venice are the club on so many lips, attracting worldwide interest.
A football team on the water, literally, Venezia are setting trends with their must-have kits as they enjoy life back in Serie A for the first time in almost two decades, but it has not been an easy road for I Leoni Alati – the Winged Lions–, who resided in the depths of Serie D just five years ago.
Founded in 1907 and with their most significant achievement to date being victory in the 1940-41 Coppa Italia, Venezia were relegated from Serie B in 2005 and went bankrupt.
Businessman owner Maurizio Zamparini had left for Palermo in 2002, taking with him 12 players in a move dubbed locally as the "furto di Pergini" – the "theft of Pergine".
Venezia were re-founded twice – at the end of the 2008-09 and 2014-15 seasons – having been declared insolvent on both occasions. It led to the 2015 arrival of a group of American investors, and while they have been in the ascendency at Stadio Pier Luigi Penzo ever since, Venezia have soared to new heights under president Duncan Niederauer.
A former CEO of the New York Stock Exchange, Niederauer arrived in early 2020 and it coincided with Venezia going from Serie B battlers to Serie A newcomers after a breathtaking and dramatic play-off in May of this year, which led to the Venetian version of a street party – fans jumping into the canals and players celebrating on gondolas.
In an interview with Stats Perform, Niederauer – whose Venezia have five points from seven rounds to start the 2021-22 campaign – said: "When we took over in early 2020, I think step one was just to survive in Serie B to be perfectly honest. The team was struggling in the second division. Then last season, from the outset, I thought we would be very, very competitive. I thought we built a very good team. I don't think the experts agreed with me, but we declared early in the season last year that I thought we could compete for a spot in the play-offs. The team backed that up and was really in the play-off discussion all season.
"Somewhat unexpectedly to just about everybody, we got through the play-off battles. One of the things we hoped to accomplish was to get to Serie A in two-three years. We're kind of a couple of years ahead of schedule. The good news is you're ahead of schedule. The other news when you're in Serie A for the first time in two decades, you probably don't have the infrastructure that you need, you don't have the organisational construct that you need and that was certainly true for us. While it's been very exciting to be in the first division, we've had a lot of work to do to try to get ourselves prepared as a team and organisation to be in the first division. That's where a lot of the focus was spent on in the summer. We had to upgrade the stadium, we had to add to the organisation and re-think the roster to be competitive in Serie A while respecting our approach and budget."
Venezia captured the attention of millions with their last-gasp play-off win over Cittadella – Paolo Zanetti's men were down a man and trailing 1-0 after 36 minutes, and appeared destined for another season in the second tier.
But, with virtually the last kick of the game, Riccardo Bocalon's strike three minutes into stoppage time salvaged a 1-1 draw and a 2-1 aggregate win to send Venezia back to Serie A for the first time since 2001-02.
It sparked wild scenes on the pitch as Niederauer celebrated promotion with Venezia. While the team exceeded expectations externally, their president always believed.
"We have a really different philosophy with this team. Our culture is very much one of a family. I was discouraged by many others from getting close to the players," Niederauer said. "I was told if you get close to the players, it will cloud your judgement and it won't work. I fundamentally disagree with that in any business I've ever run. If you take care of your people, they can do great things, right?
"I remember saying to the players early in the season, 'Just to be clear, I work for you, you don't work for me. You tell me what you need to be successful, I just want to clear all the clutter so you can play.' They really took it to heart and they knew they could count on me. I think what you saw was a group of guys, who throughout the season, believed more and more in themselves. It culminated in that evening in late May... the players on the field, I said, 'Guys, that was unbelievable'. They said, 'Pres, not really, that's what family does'. We didn't want the story to be about Pasquale Mazzocchi's red card but about our promotion to Serie A... I thought that was a pretty strong culture which benefited a lot.
"To be there in person. It's a weekend, my wife and I, we will never forget. It's our favourite city in the world. We were there together the night of the match. I held it together surprisingly well until I saw her on the field and then I burst into tears because I think I was just so proud of them for what they did. If you watch the celebration, it's not a group of people who sort of like each other, sort of know each other, it's a family celebrating a shared success. Lots of tears and joy. If I had a do-over, I don't think I'd jump in the canal again, but at the moment, the players were doing it and seemed like the right thing to do. We had been in it together, so how could I not do it? It was a surreal experience. The celebration over the weekend... I said to my wife, when we don't remember each other's names, we will remember floating down the canal during that parade because it's like no other celebration in the world. It's a long emotional answer, but it was a really, really special evening."
Having stepped into the precarious world of Italian football, Niederauer added: "People ask me, what other sporting ventures are you going to do in Europe and the answer is none. Our second home is in Italy. My wife and I spend a lot of time in Italy. Venice has been our favourite city for a long time.
"When the opportunity came up to do this and do something special for these kids and this city, I don't think we would've done this anywhere else to be honest. I wasn't on the hunt for a football team to run from the United States. I just thought all the stars aligned and it seemed like an opportunity to do something really, really special. The pay-off was watching these young men perform above everyone's expectations except ours. I said to them at the start of the season, 'Guys, you're really, really good. Don't let anyone tell you you're not good. You're a good team and if you play for each other like family plays for each other, you can do spectacular things this year.' That's what happened, it's not any more complicated than that."
Fast forward to this season and Venezia are riding an unprecedented wave. During the 2020-21 campaign, their popular Nike jerseys – both home and away – were a hot commodity, despite the team being a relative minnow.
But at a time when the jersey industry is booming, and fashion and football more entwined than ever, Venezia have hit record heights since switching to Italian manufacturer Kappa. All three jerseys – now collectors' items – were swiftly sold out.
While a strategic plan to turn heads on and off the pitch, it's something not even Niederauer could have anticipated following the collaboration with a brand closely tied to Italian football.
"If you're in the city like Venice which is at the centre of art, fashion and history, I think it's incumbent on us to do our best to have the club aligned with the virtues of the city and the strengths of the city," Niederauer said as he discussed the global branding and fashion-forward identity ahead of Monday's clash with Fiorentina.
"Step number two which was a little less obvious, I like and respect Nike a lot. The current CEO is someone I've known for a long time. In fairness to Nike, we weren't big enough as a small second division club in Italy that had not been particularly well run previously. I don't blame them for not spending a lot of time with us. If I'm honest, I probably would've made the same decision if I were Nike. It seemed like it was time for us to find a partner that was closer to home who we could really collaborate with and almost co-author the designs.
"I thought this year was a really, really important year to make a statement. We left it to the design team and the design team collaborated with Kappa. It was a little bit rushed, but you see the results of what they produced... we're about to drop the fourth jersey in a couple of weeks here. All three we have released are all in the top 20 globally. That was purposeful. I don't know if we will hit all the right tones again every year, but for this year, I thought it was really important we take some risks and go over the top to design something special. Kudos to the design teams. I had basically nothing to do with it except turn them loose. What I like about the third and fourth jerseys, both were down in collaboration with foundations which support sustainability in Venice. We think part of our purpose as a club is we have to be part of the community and part of the city. Venice is obviously beautiful but not without its challenges with climate change. Proceeds from the third and fourth jersey go towards those organisations. We've tried to position ourselves as a global brand. It's early, early days but the jerseys are helping us do that. Now it will come down to can we perform in Serie A and stick around for a while?"
A few years ahead of schedule, now is when Niederauer's ambitious plan of turning Venezia into a viable business clicks into gear, with the former Goldman Sachs banker leaning on his financial background as the club learn from past mistakes.
"Our philosophy is you do your best to leave every situation better than when you found it. That's already been accomplished. I think our next objective is to build a sustainable club that, I don't think is competing for Champions League in the next few years, but at least is a club that you come into every season not solely focused on salvation," he said, with Venezia since signing former Manchester United and Argentina goalkeeper Sergio Romero as the club benefit from the picturesque city as a recruiting tool.
"You come into the season where you're expected to be a mid-table team. A mid-table team in Serie A given our investment approach and how we identify players, we have a long way to go to be as great as Atalanta have become at this. But if you built the foundation in the youth academy that we're doing and on your first team, and if you can get to that point where you're mid-table pretty predictable, I think we can run quite a profitable and sustainable franchise. We wouldn't look beyond that yet. We would have another decision to make. It would be arrogant to start thinking of those things before we prove ourselves. The next three years is about proving that the model works, proving we can stay in Serie A, proving that we can be a mid-table team and then hopefully start to reap all the seeds we planted in the youth academies, which were grossly underinvested."
The plan for Venezia goes beyond the first team, with the increased infrastructure leading to the establishment of their first ever women's team on top of a revamped stadium and facilities – a new headquarters set to open next September – as Niederauer bets on the future.
Niederauer – whose Venezia could draw three consecutive Serie A games for the first time since April 1962 – added: "You have to be conscious about the past because if you don't look back a bit to understand what you can learn from history, you're making a big mistake. Our approach was really simple and I think we were fortunate in the pandemic because as a Serie B team who weren't really drawing a lot of fans and didn't have a global brand, the revenue that ticket sales and merchandise were accounting for before we really organised and set ourselves on a better path, was small enough that it didn't poke a big hole in our boat last year. Our salaries were well under control – I think we had the 13th or 14th highest payroll in Serie B. We are pretty thoughtful about it. Our approach this season hasn't changed too much. We obviously want to be competitive and would like to stay, so you're willing to spend a bit of money to do that. I would bet you that our payroll is the lowest in the league. I would bet you our coach is not only the youngest coach but probably one of the lowest paid, but we think he is one of the best and that's why he has a four-year contract. We believe in him and are willing to bet on him. The players deserve continuity. We're not the type that would change coaches if the team isn't performing. That's on us more than it's on him – we are the ones that assembled the roster. It's up to Zanetti to do the best he can with it.
"We didn't overspend. We stuck to our strategy – we find young talented players. We did spend a little money acquiring some of them? Yes. My background would suggest that if you buy undervalued assets in the long run, as long as you take a long view, your returns will be just fine. That's what we convey in every decision. These are long-term investments. We didn't panic when we lost the first two games of the season. When you have a strategy, you don't divert from it and you don't let your emotions get the best of you. I don't find it that complicated. We have a challenge ahead of us. Serie A is a great league but I think we've built a really good roster. We're improving with every match. I like our chances of surviving and then the sky is the limit after that."
"Last year, at the start of the season, in Italian football everyone talks about salvation," he continued, with Venezia boasting the youngest player in Serie A this season with at least one goal and one assist – 19-year-old American sensation Gianluca Busio. "I said, 'Guys, I know I'm going to sound a lot like Ted Lasso here, I apologise, but we're not going to talk about salvation'. And they're like, 'Pres, what do you mean? We all talk about salvation.' I said, 'I'm going to stand up and say you're a play-off team, I believe that you are. I believe you will be in the conversation for promotion this year. So if that's our goal, why would we talk about salvation? We're not going to talk about salvation, I don't want you talking about it in your interviews and I won't in my interviews other than to dismiss it.' They were completely confused.
"At the beginning of this season, I said, 'I'm not a hypocrite, but this year we talk about salvation. This year it would not be realistic not to talk about salvation. So this year it's OK to talk about salvation.' But last year, we did not say a word about it on purpose because I thought our ambition should not just be about to survive but to win. I think they got it. It's a little bit unorthodox for Italy, but I think we have a few people starting to mimic what we're doing.
"There's a lot of people betting on this project and I like our chances, if we can stick to the long-term view and not waver from it, I really like what we're building here."
Tags