Foster has 'forgotten about the rollercoaster' with All Blacks on brink of title
Peter Thompson
Stats Perform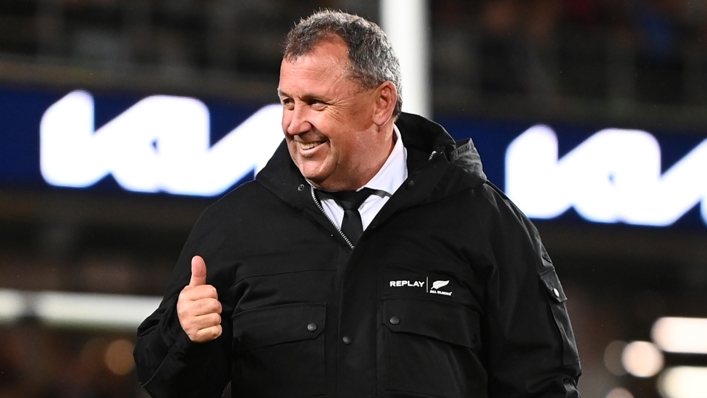 Ian Foster says he has "forgotten about the rollercoaster" after New Zealand hammered Australia 40-14 to stand on the brink of retaining the Rugby Championship title.
The All Blacks put their trans-Tasman rivals to the sword in front of a capacity crowd at Eden Park, scoring five tries with Richie Mo'unga booting 13 points.
A resounding victory ensured South Africa need to a bonus-point win over Argentina by at least 39 points to claim the title later on Saturday.
It is not long since Foster was in danger of losing his job, with New Zealand suffering a home series defeat to Ireland before losing to the Springboks and Argentina in the Rugby Championship.
All Blacks head coach Foster said: "I've forgotten about the rollercoaster. I'm just happy in the moment.
"We've come into a championship, we've had, in our mind, the hardest draw by having both tests against South Africa in South Africa, got one out of two in that space, we've let ourselves down in Christchurch [in a defeat to Argentina], but our response to that has been really positive.
"We look at the last half of the championship and we're really pleased with what went in. All we can do is deal with what's in front of us right now.
"I know we've got a buffer [over South Africa] – whether it's enough I don't know. But we've given ourselves a chance and that's all we want."
Foster knows New Zealand remain a work in progress, but he has been impressed with the way they have knuckled down in challenging times.
He added: "All you can do, in the circumstances you get dealt, is try and find a way out of it and I think we've owned very clearly that we put ourselves in a situation. But I back the group we've got to get through an issue.
"I said at the time we're going through stuff that none of us had really gone through in an All Blacks jersey and it was hard. We just had to own it and we had to be the people who came up with the solutions.
"We've done some good problem-solving. We've worked hard, and it's given this team a little bit of steel and it's given us some harsh lessons we kind of wish we didn't have to deal with, but we did.
"In those situations you either fold and walk away because it's too hard, or you buckle up and get stuck into work.
"The work of the players has been phenomenal, and we're growing belief. But we've still got some steps to go."
Tags