Formula 1: Six key questions ahead of the maiden Qatar Grand Prix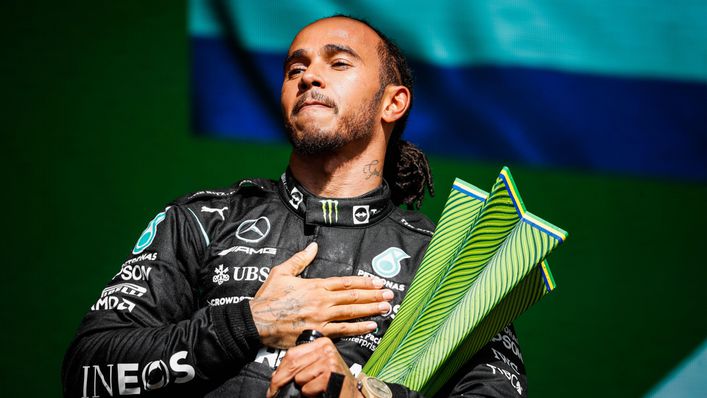 LiveScore's Jim Munro gets you up to speed with the big talking points around the Formula 1 paddock ahead of the 2021 Qatar Grand Prix.
Was Lewis Hamilton's win in Brazil as good as the hype suggests?
Undoubtedly. To put his display of precision and power into context, no driver had ever won at Interlagos before from as low as 10th on the starting grid.
Lewis Hamilton is a seven-time world champion and arrived in Brazil with a record that boasted an impressive 100 wins from 284 starts since his debut in 2007, but only one of those previously had been achieved from being outside of the top six on the starting grid (Germany 2018, from 14th place).
The British ace's weekend began with having his result deleted from qualifying because of a 0.2mm irregularity with his rear-wing DRS system, meaning he was demoted to 20th on the starting grid for Saturday's Sprint race.
After blasting through the 24 laps to claim fifth place, he had to serve another five-place grid penalty for Sunday's 71-lap Grand Prix after having a new internal combustion engine fitted to his Mercedes.
Taking all of that into consideration, to win the Brazilian Grand Prix Hamilton fought his way up a total of 25 places over 95 laps across the weekend. It was a unique drive and one that's unlikely to be matched in future.
What's the latest on Mercedes' appeal ahead of the Qatar Grand Prix?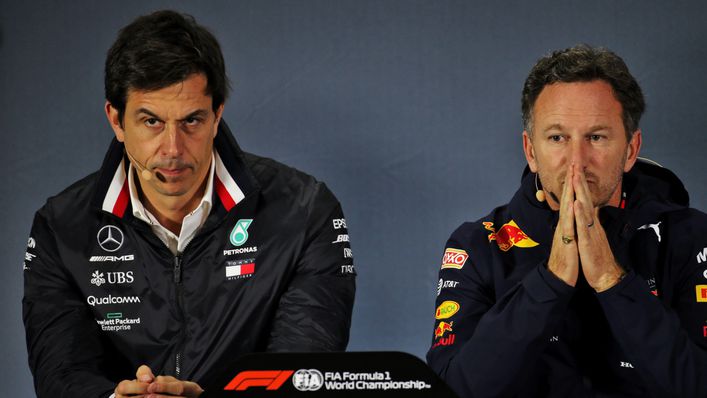 The clash of the heavyweights off the track this season has been Toto Wolff, part owner, team principal and CEO of Mercedes versus Red Bull team boss Christian Horner.
It's not just a war of words either as during the season both have been behind calls for official investigations into each others' championship contender.
Formula 1's gripping soap opera was in full swing again on Friday as the first free practice session got underway in Qatar.
While championship leader Max Verstappen was setting the fastest time at the Losail International Circuit, F1's governing body the FIA announced that he wouldn't be facing any penalties for an incident during last weekend's Brazilian Grand Prix.
Why had that been a possibility? Mercedes had claimed that race stewards hadn't been armed with all relevant information when deciding Verstappen shouldn't face any action for driving title rival Hamilton wide off the track on lap 48 as he attempted an overtake at Turn 4.
On-board video footage from Verstappen's car was released on social media earlier this week which fuelled the debate that Verstappen had perhaps not done enough to hold the inside racing line, which would have allowed Hamilton to complete his move and take the lead.
That led to a bizarre scenario on Thursday of Mercedes meeting with F1 officials to determine whether they had the right to appeal against the stewards' original decision.
On Friday the official verdict came: The FIA stewards agreed that the new footage was 'relevant' but not 'significant' and denied Mercedes any right to appeal.
Horner's immediate response was that it was "obviously the right decision because it would open Pandora's Box regarding a lot of other incidents that happened at that race".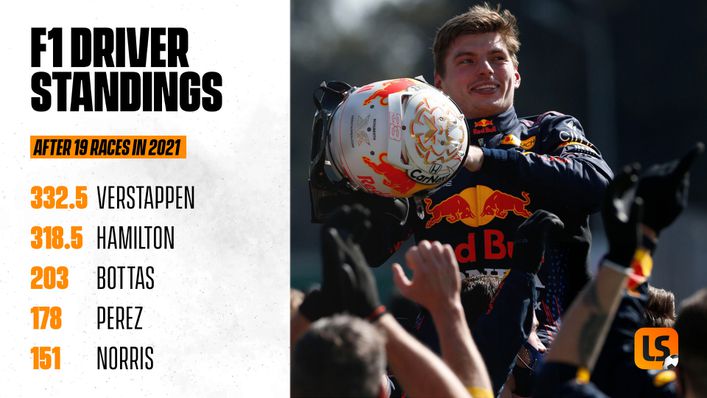 Red Bull had a different view in July though, when they appealed against the 10-second penalty given to Hamilton for forcing Verstappen out of the British Grand Prix.
After a mid-race coming together, Verstappen's car was badly damaged and the Dutchman taken to hospital for a medical assessment, while Hamilton served his penalty during a pit stop and went on to win the race.
On that occasion, Red Bull's appeal that Hamilton hadn't been punished enough was thrown out despite them using reserve driver Alexander Albon to re-enact Hamilton's driving line during the incident to support their claim.
Wolff delivered a spiky assessment of his managerial rival last month, saying: "I feel he [Horner] is one of the protagonists in a pantomime, part of the Formula 1 cast, and for me as a stakeholder, as a team owner, it's great that he creates these kinds of stories.
"But it's irrelevant. People have a microphone in front of them or a camera on them and they start to behave like little actors, like Hollywood."
Horner's counter punch was just as hard hitting.
He said: "We all know Toto has a lot to say. I was quite flattered actually, I mean, getting called a protagonist.
"If you look at what the definition of that means, I think you also need an antagonist to have a protagonist.
"One could say that perhaps Toto fulfils that role pretty well — or if it were a pantomime then the pantomime dame role might suit him but look, it's all about what goes on, on track."
Can Lewis Hamilton still catch Max Verstappen?
Yes. Hamilton's victory in Brazil hauled him to within 14 points of championship leader Verstappen with three races remaining.
As there are 25 points for a win and 18 for second place, Hamilton would clinch the title by being first to the flag from now to the end of the season — even if Verstappen came in second each time and earned the extra point in each race for setting the fastest lap.
Formula 1 is never that easy though and it's hard to imagine us getting to the line at the season finale in Abu Dhabi on December 12 without several bumps and scrapes along the way.
Which cars will perform best round the Qatar circuit?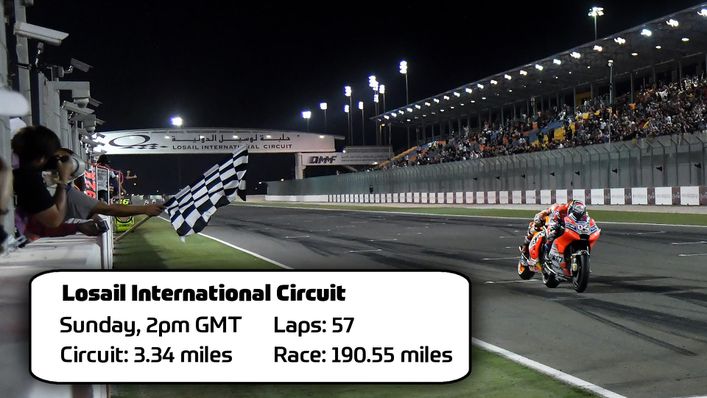 This will be the first ever F1 Qatar Grand Prix, having been drafted in as a replacement for the postponed Australian race.
The venue is the Losail International Circuit north of Doha and it will be the first of three night races that conclude the 2021 season.
Losail opened in 2004 and the 16-turn track has hosted several top motorsport events on both two wheels and four, including Moto GP, World Superbikes and World Touring Cars.
With no previous F1 races to review, it makes it a tough call to predict which team will be celebrating at the chequered flag. The nearest comparison is Abu Dhabi's Yas Marina circuit which made it's F1 debut in 2010.
Another night race based in the Middle East, it had been a happy hunting ground for Mercedes up until last season, when Verstappen's pole-to-flag victory ended the German manufacturer's six-year winning streak.
You could therefore be forgiven for thinking that Red Bull have the advantage at the Losail International Circuit, but in Brazil last weekend we saw a much-improved No 44 Mercedes with a brand new internal combustion engine tearing up the field. So it really could be anybody's race.
A key part of the circuit is the main straight which runs for just over a kilometre. With the likelihood that this will be the location for the one DRS zone, expect to see some high-speed overtaking as the cars roar into the Turn 1 right-hander.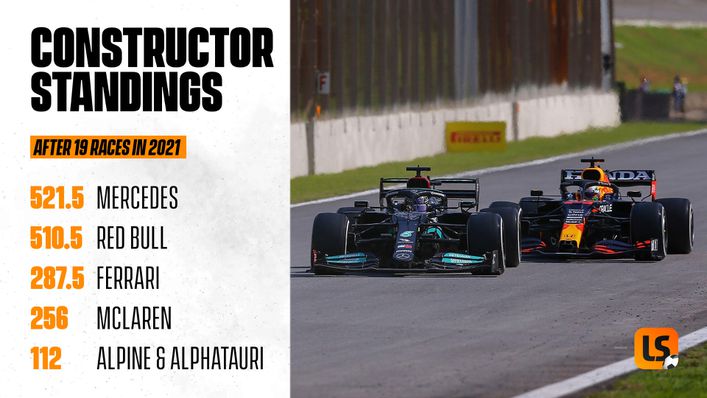 Red Bull's Sergio Perez competed at Losail in the 2009 GP2 Asia Series but admits it didn't leave a lasting impression.
"I don't really remember anything of the track," he said. "I only raced here once and it disappeared from my radar. Formula 1 has never been here.
"When I was in the simulator it was like learning a new track. It looks fun. I think it's going to be not much overtaking, so qualifying I think will be very important.
"It's such a fast track; the sliding energy you're putting into the tyres is going to be critical, so I think pretty much every single corner is very important, especially in the race. I think we still have a lot to find out about this place."
Tyres are likely to take a beating, particularly with the challenging triple right-hand apex taking in Turns 12 to 14 but as the track hasn't been resurfaced since it was built, grip should also be good throughout the 57-lap race.
Sunset in Qatar is 4.45pm with the race due to begin at 5pm local time, which is 2pm GMT.
Qatar will become a regular F1 venue from 2023 after agreement on a 10-year deal was reached, that should also see the debut of a new purpose built circuit.
Are Ferrari favourites to finish third?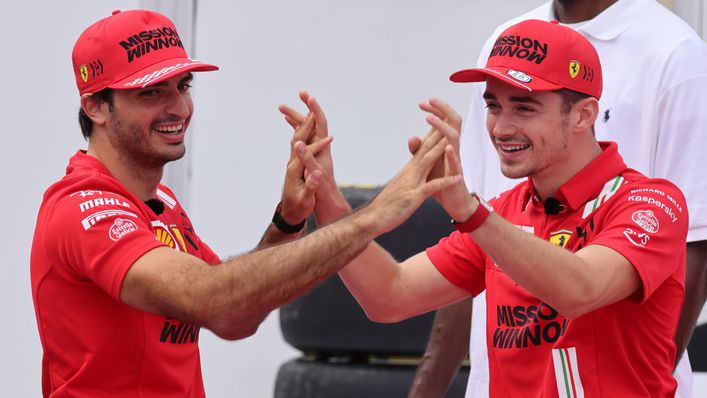 In Charles Leclerc and Carlos Sainz, Ferrari have two talented drivers who are having a close personal battle in the drivers' championship while enjoying a strong relationship away from the paddock.
Last month Sainz revealed the pair were golfing buddies and declared: "Since we spend a lot of time together it's important to get along personally as well and that's definitely the case with us."
On the track, the pair have helped Ferrari take a strong grip on third place in the constructors' championship, with a 31.5-point lead over McLaren in fourth.
Leclerc has finished in fifth for the past two races with Sainz just one place behind in both Mexico and Brazil.
Sainz isn't getting carried away though and says it's just fine margins that have allowed the Ferrari pair to build their lead.
He said: "We have had the upper hand in terms of pace lately but we're talking about one tenth and a half [seconds per lap].
"When you talk about one tenth, one tenth and a half, you really talk about details. What is true in both Mexico and Brazil if you look into detail, they could have had one car ahead of both Ferraris into Turn 1.
"Obviously there was contact with Lando [Norris of McLaren in Brazil last weekend] but he was about to pass me when I was the lead Ferrari.
"[Daniel] Ricciardo, before the incident with Valtteri [Bottas] in Mexico, was ahead of both of us. So in both weekends a McLaren could have finished ahead of both Ferraris.
"It just shows that it could have been completely different if they wouldn't have DNF'd with one of the cars. So it's still super tight."
Are all the driver line-ups for 2022 confirmed?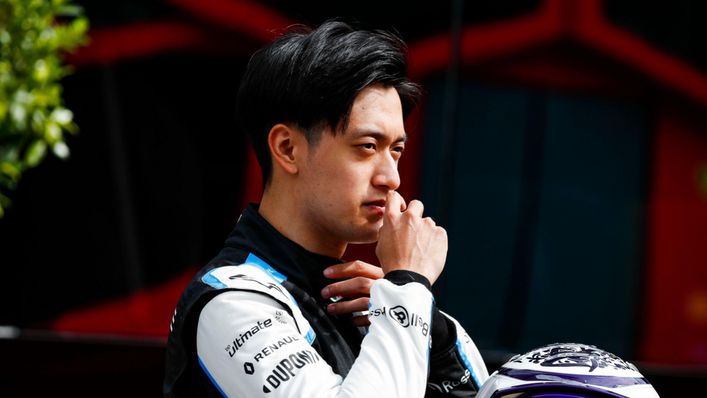 The final piece of the 2022 puzzle was put into place earlier this week when Alfa Romeo announced that Formula 2 driver Guanyu Zhou will replace Antonio Giovinazzi next season.
The 22-year-old will become China's first F1 driver and will have a debut run out in an Alfa in December's testing in Abu Dhabi.
Giovinazzi has confirmed that he will be moving to Formula E for 2022 to take a seat at Dragon Penske in the all-electric single seater race series.
Zhou lies second in the F2 championship with Alpine but will be ending his relationship with the Enstone-based outfit to fulfil his F1 ambition with Alfa Romeo.
He said: "It is a privilege for me to start my F1 career with an iconic team, a team that has introduced so much young talent into F1 in the past.
"Now the dream is reality. I feel well prepared for the immense challenge of F1, the pinnacle of my sport, alongside a proven, world-class talent in Valtteri Bottas."
The impending move from Mercedes appears to have rejuvenated Bottas, who has been in excellent form since he declared his intentions in September, claiming pole position in three of the last four races.
It was no surprise to learn that George Russell will be stepping up from Williams to become Hamilton's team-mate next season.
The 23-year-old has been part of Mercedes' junior programme since 2016 and stood in for a Covid-stricken Hamilton in last year's Sakhir Grand Prix.
Perez has shown enough guts and guile to earn another year with Red Bull across the garage from Verstappen.