Former Blackhawks coach Quenneville resigns from Panthers role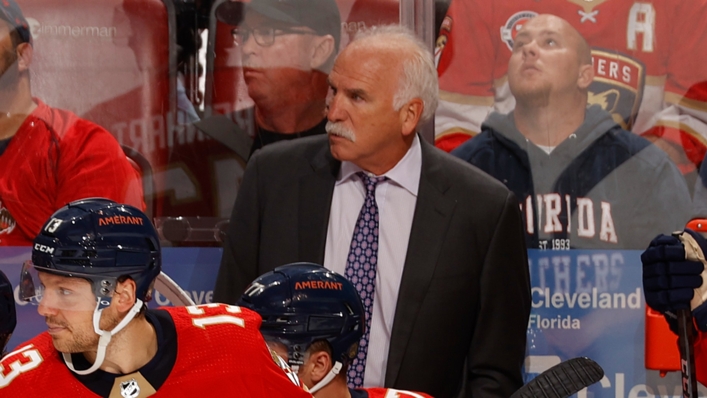 Florida Panthers coach Joel Quenneville has become the latest individual to resign from his role following the release of a report into the Chicago Blackhawks' response to sexual misconduct allegations in 2010.
Quenneville was coach of the Blackhawks when a player – now revealed to be Kyle Beach – alleged he was sexually assaulted by then video coach Brad Aldrich during the team's Stanley Cup playoff run.
Jenner & Block was hired by the Blackhawks to conduct a 107-page report, released on Tuesday, after Beach filed a lawsuit against the team in May of this year.
The report detailed accounts of discussions among senior executives during the successful playoff campaign after an encounter between Beach and Aldrich, which the accused said was consensual, came to light.
Multiple parties told the investigation of a desire to instead focus on the Stanley Cup Finals "to protect team chemistry and avoid bad publicity". Quenneville was named as one of those involved in these meetings.
Meanwhile, Aldrich remained involved with the team, receiving a championship ring. No action was taken for three weeks, violating the team's own sexual harassment policy, the report said. It said Aldrich "engaged in an unwanted sexual advance on a Blackhawks intern" during this time.
Aldrich was then allowed to resign, avoiding an investigation until now. In 2013, he was arrested and pled guilty to fourth degree criminal sexual conduct involving a minor.
Stan Bowman, the Blackhawks' general manager at the time and more recently their president of hockey operations, resigned shortly after the release of the report – which prompted a $2million fine from the NHL for Chicago's "inadequate internal procedures and insufficient and untimely response".
Now, Quenneville has left the Panthers, who have made a league-best 7-0 start to the new NHL season.
Quenneville, who was the Blackhawks' coach between 2008 and 2018, winning three Stanley Cups, had been with the Panthers since 2019.
In a statement, he said: "With deep regret and contrition, I announce my resignation as head coach of the Florida Panthers.
"I want to express my sorrow for the pain this young man, Kyle Beach, has suffered. My former team the Blackhawks failed Kyle, and I own my share of that.
"I want to reflect on how all of this happened and take the time to educate myself on ensuring hockey spaces are safe for everyone."
Beach – previously anonymised as John Doe – revealed his identity on Wednesday and said the incident had "destroyed me from the inside out".
NHL commissioner Gary Bettman said in a statement: "The National Hockey League agrees with the decision by Joel Quenneville to resign his duties as head coach of the Florida Panthers.
"In his former role as Chicago Blackhawks head coach, Mr Quenneville was among several former members of the club's senior leadership group who mishandled the 2010 sexual assault claim by former player Kyle Beach against the club's then video coach, Brad Aldrich.
"And, following a meeting with Mr Quenneville that took place this afternoon in my office, all parties agreed that it was no longer appropriate that he continue to serve as Florida's head coach.
"I admire Kyle Beach for his courage in coming forward, am appalled that he was so poorly supported upon making his initial claim and in the 11 years since, and am sorry for all he has endured."