Panthers live up to 'Comeback Cats' nickname to win first playoff series since 1996
Liam Phillips
Stats Perform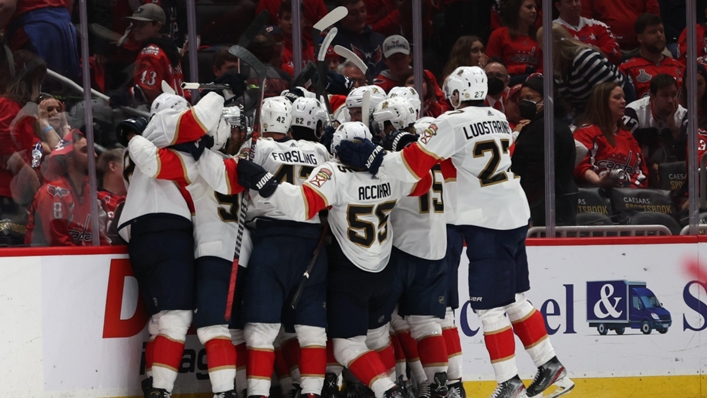 Florida Panthers interim coach Andrew Brunette said his side's fighting spirit was key in a series comeback against the Washington Capitals, culminating in Friday's 4-3 victory in overtime.
It was the Panthers' third straight win after falling down 2-1 in the series, and Game 6 was closely contested throughout.
After a scoreless first period, Nic Dowd opened the scoring for the Capitals, before Ryan Lomberg answered straight back to keep things at 1-1 heading into the last frame.
Nicklas Backstrom put the home side back in front, but the 'Comeback Cats' would not lay down, with Claude Giroux and Aleksander Barkov giving the Panthers a 3-2 lead.
In the closing stages, after the Capitals had pulled their goalie to get an extra attacker on the ice, T.J. Oshie found the equaliser to send the crowd into raptures and force overtime.
But this was the Panthers' night, and Carter Verhaeghe slotted the golden goal less than three minutes into the extra period to win the game and seal the series.
It is the first time the Panthers have won a playoff series since 1996, and Brunette said the performance epitomised their season.
"I think it's what we saw all year – the resiliency of the group," he said.
"People will say we're the 'Comeback Cats' – I'm not sure that's what I see – I see a group of guys that get hit, and they don't fall down, and they start hitting back.
"They showed that throughout the whole series, they showed it tonight.
"We gave up a late goal – it was a heart-breaking moment that could really affect you and can kill momentum – but again, we took the punch, we stood up, and we started punching back. It epitomises the whole season for us."
Asked if finally getting an elusive series win takes the pressure off his players, Brunette said he hopes it is the case.
"I hope [the series win takes the monkey off the Panthers' backs] – especially for the guys that have been here for a while," he said.
"It probably feels really good, because they put a lot of pressure on themselves – probably too much – throughout the course of the series. They were able to find a way and pull through it.
"I think as the series went on I felt they loosened up a little bit. We were a little nervous at home the other night, but they found their mojo and got going.
"These things – you've got to go through them a few times to really get the feel of it. You have to have heartbreaks, you have to have things not go your way, to find out how hard it is, and understand it, and be resilient.
"When you see the reward like they did tonight, it's all worth it."