Five talking points from Manchester City 2-1 Manchester United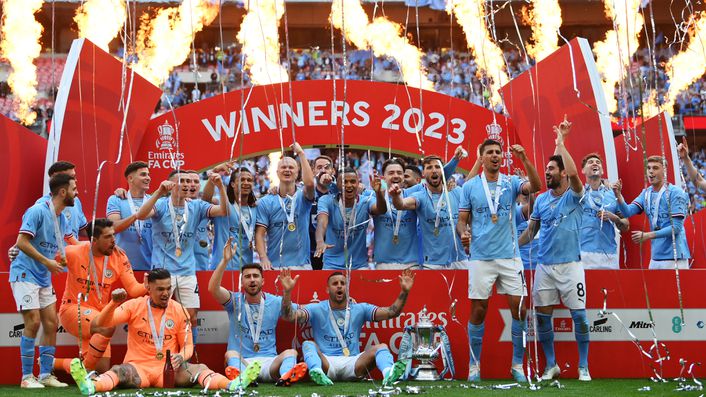 Ilkay Gundogan bagged a brace to help Manchester City beat Manchester United 2-1 and win their seventh FA Cup at Wembley — taking them a step closer to a historic treble.
Gundogan opened the scoring straight from kick off with a stunning volley on the edge of the box to give City an early lead.
United equalised in the 33rd minute after they were awarded a penalty for a handball from Jack Grealish, which Bruno Fernandes rolled home with confidence.
However, minutes after the break, Gundogan fired in a second volley that saw the Citizens re-take the lead and eventually lift the FA Cup trophy.
Here are five talking points from the cracking final at Wembley Stadium.
Captain fantastic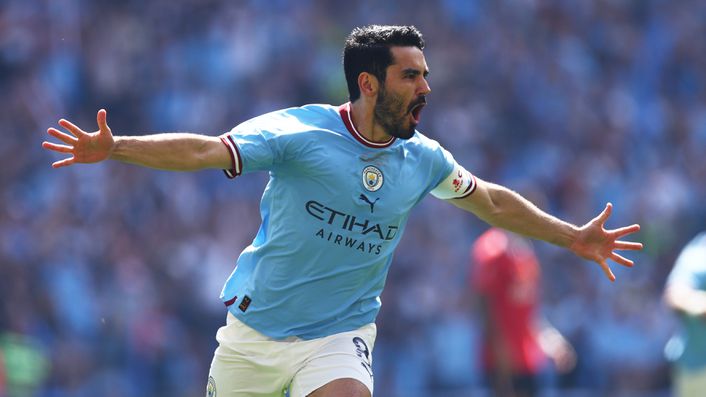 Manchester City captain Gundogan set the final alight, opening the scoring with a wonderful strike.
It came 12 seconds from kick-off — the fastest FA Cup final goal ever — via a remarkable strike from the edge of the box that David de Gea could only watch fly into his net.
Then in the second half, Kevin De Bruyne launched a free-kick to the left side of the same area as the first, where Gundogan hit a volley with his left foot that bounced past De Gea.
Having already given City some crucial moments during the Premier League run-in, he once again came up with the goods to lead his team to FA Cup glory.
Citizens close on treble
Manchester City's triumph over their rivals sees them take a step closer towards a famous treble.
After cruising to a third successive Premier League title, now Inter Milan are the last team standing in the way of Pep Guardiola's side in next Saturday's continental showpiece
United are the only team in England to have completed the impressive feat in 1998-99, under the management of Alex Ferguson.
The Citizens will travel to Istanbul's Ataturk Olympic Stadium next week brimming with confidence, knowing they are one step away from writing themselves into the history books.
Sublime Stones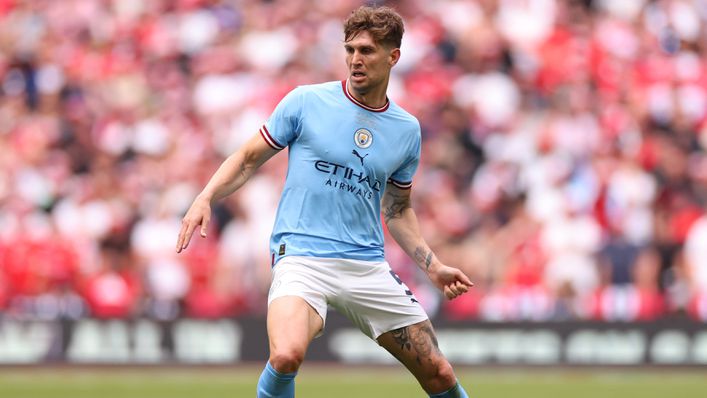 John Stones was a standout performer in the final.
The England international moved into midfield in possession, creating a double pivot with Rodri to draw defenders and open spaces for City to exploit.
He dropped deep to collect the ball, attracting pressure before pivoting away to break the press and build into an attack.
Then defensively, he sat next to Ruben Dias, forming a solid partnership to stop the United attack and ensuring talisman Marcus Rashford was kept quiet throughout the match.
It was an impressive all-around display from Stones.
Pep's tactics pay off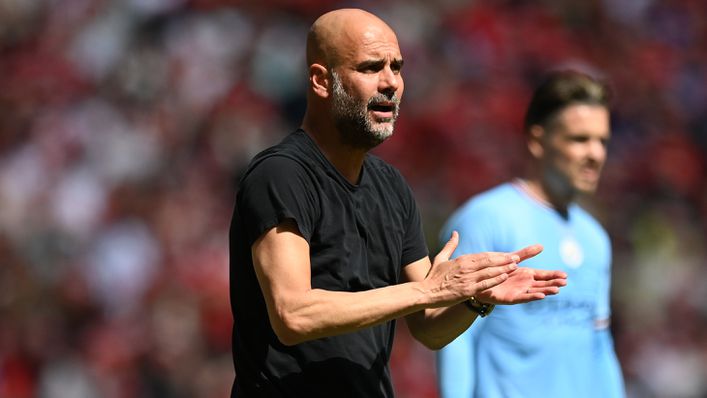 Guardiola brought the perfect set-up for City to reign supreme.
In attack, they were quick and devastating, using Erling Haaland to hold up the ball. They hit the target five times in the match, with quality from Gundogan proving the difference.
At the other end of the pitch, they limited United to just three shots on target, stifling Rashford and Jadon Sancho to prevent them from having an impact on the game.
Guardiola also made the bold decision to keep his second-choice goalkeeper Stefan Ortega and it paid off when he denied Raphael Varane from point-blank range in stoppage time to secure victory.
Bragging rights
City took the bragging rights in what was the first-ever Manchester Derby FA Cup final.
The two sides have won 19 FA Cups between them but this victory was made that much sweeter for the Citizens, given the stakes involved.
After the match, City boss Guardiola made it clear that he now has his sights firmly set on the Champions League final.
He said: "We can now talk about the Treble. Of course we still have to win the Champions League. We performed so well for our city and our fans.
"Tomorrow and the next day they can have off. We've then got three or four sessions to train for Inter Milan. We'll travel on Thursday morning after training.
"It was so important for us today. The FA Cup is so nice. I'm a Barcelona fan but I will love this club for the rest of my life.
"I know today we gave our fans a good gift to enjoy against our neighbours."
Tags