La Viola claim Fiorentina and Inter directors did not clash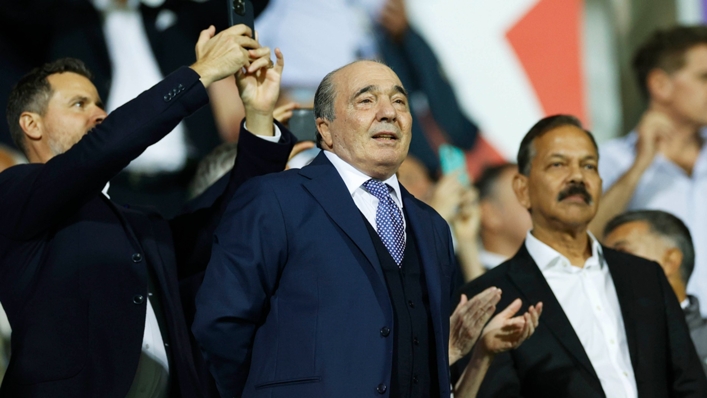 Fiorentina have hit out at "plainly false" media reports accusing club president Rocco Commisso of "aggressive and intimidating" behaviour towards Inter Milan players and staff after Saturday's Serie A meeting.
Inter were 4-3 winners at the Stadio Artemio Franchi, but the game was subsequently marred by claims in the press of ugly scenes off the pitch.
It was claimed Commisso aggressively banged on the door to Inter's changing room, while Inter CEO Giuseppe Marotta and Fiorentina general manager Joe Barone were said to have engaged in a heated disagreement.
The Italian Football Federation (FIGC) began an investigation into the alleged incidents on Monday, but Fiorentina have since released a statement insisting the media reports were false, with Inter president Steven Zhang apparently assuring Viola officials the stories did not come from him or his staff.
Fiorentina's statement read: "ACF Fiorentina can confirm that Inter president Steven Zhang has spoken to Fiorentina general manager Giuseppe Barone.
"The Nerazzurri president clarified that neither he nor any other [Inter] club directors ever claimed – at any time or to any individual – what was published by some newspapers on Saturday evening after the Fiorentina v Inter match. These reports alleged that president Rocco Commisso behaved in an aggressive and intimidating manner in the away dressing room. This never took place.
"Fiorentina has taken note of what president Zhang said and would like to highlight that some members of the press are quick to portray president Rocco Commisso in a bad light without carrying out due and diligent checks on the reliability of their information and sources, publicly attributing bad behaviour to Fiorentina's president which has no factual grounding.
"Sadly, once again we are left to rue the fact that the club and its fans have fallen victim to inaccurate reporting by certain members of the media, who reported plainly false information which has caused serious damage to the image of the club and the president.
"We reiterate that Fiorentina has the greatest respect for journalists and their work and expects this to be reciprocated with the club and its employees by not publishing unverified stories which have no basis in reality."
Tags