Favre would be 'shocked' if Adams matches Green Bay production in Las Vegas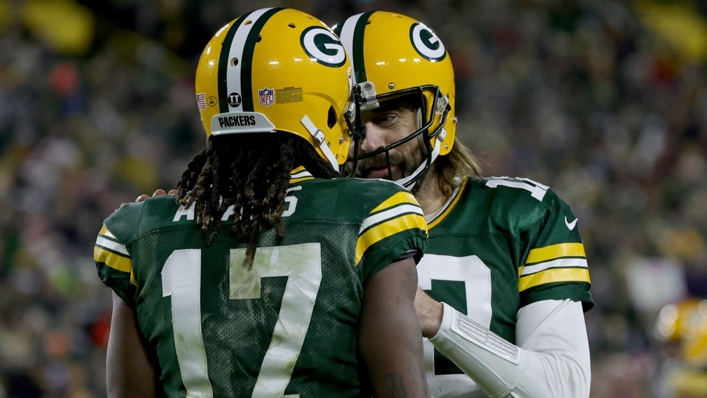 Green Bay Packers great Brett Favre would be shocked if star receiver Davante Adams has the same production with the Las Vegas Raiders as he had playing alongside quarterback Aaron Rodgers.
Adams signed a five-year, $141.25million contract extension with the Raiders after a blockbuster offseason trade from the Packers, turning down an offer of more money to remain in Green Bay.
The pass-catcher left four-time MVP and 38-year-old Rodgers to reunite with Derek Carr, who was his QB in college at Fresno State.
Favre is in no doubt the presence of Adams will improve Carr and the Raiders but would be surprised if the wideout was able to match his career-best totals of 123 receptions for 1,553 yards last season.
Adams also caught 11 touchdowns in 2021, which was his second straight All-Pro season, having grabbed an incredible 18 the year before.
"Derek Carr is a very good quarterback, but he's not in Aaron's league yet," Favre said to TMZ Sports.
"He may never be, and that's no disrespect either, but I do think that Davante owes a great deal of gratitude to Aaron and the Packers drafting him.
"That's not to say he's not a great player because he is a tremendous player and we'll see that with Las Vegas.
"But it's just hard to shift gears, especially from a player as prolific as Aaron Rodgers.
"I'd be shocked if he had the same year he's had this year. That's not to say he can't do it, but I would be shocked."
Favre added: "No disrespect to Davante at all - zero disrespect. I do think that Davante will make Derek Carr better and, in time, they will be a dynamic duo.
"Now will it be the duo that Aaron and Davante had? Time will tell."
Adams and Carr will be part of a star-studded AFC West in 2022.
The Kansas City Chiefs have won the division for six straight years and made four straight AFC Championship Games, but all three of their rivals go into the year with postseason aspirations.
Las Vegas have added Adams as one of many high-profile moves and the Denver Broncos traded for star QB Russell Wilson.
The Los Angeles Chargers, meanwhile, have high expectations as they surround Justin Herbert with one of the NFL's strongest all-round rosters.