Fati's father wants son to leave Barca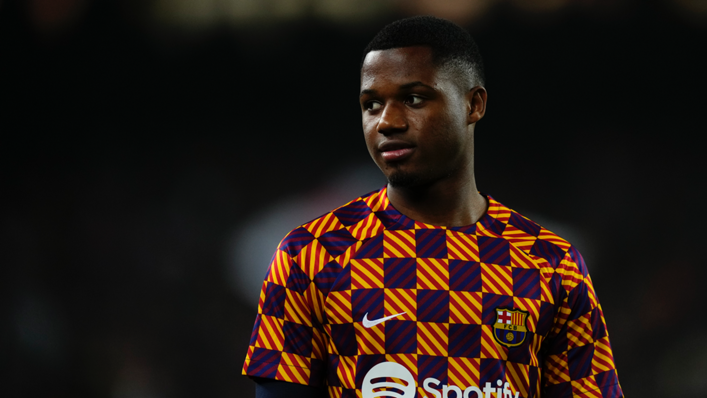 Ansu Fati wants to stay at Barcelona, but his father has other ideas.
The 20-year-old, who has been with the club for a decade, has made 38 appearances in all competitions this season but 27 of them have come as a substitute.
Bori Fati – who manages his son alongside agent Jorge Mendes – has been left angered by the situation and believes the winger deserves more minutes for Xavi's side.
"If it was up to me, I would take him [to another team] but [Ansu] wants to stay at Barcelona," Bori Fati told Spanish outlet Cope.
"He does not want to sign for another club, but I want to see him succeed. As a dad, I am angry.
"Seeing Ansu play so little winds you up a little bit, and sometimes I think as a father, not a coach."
Fati, who has scored six goals this season, is under a long-term contract with Barca, who are 12 points clear at the top of LaLiga.
And despite his father's wish, Fati has previously stated his desire to remain with Barcelona, where he feels at home.
"I'm under contract with Barcelona until June 2027, and I hope to stay here for many more years," he said in February.
"I feel grateful and lucky to play for Barca and I have to thank the people who support me daily for their backing."
The situation led to Bori calling a meeting with Barcelona sporting director Mateu Alemany, and agent Mendes.
Alemany reassured him of his son's role at the club, though Bori remains unconvinced the situation will change.
"I called Mateu," said Bori. "He told us that Ansu is part of the club's heritage, and they have bet big on him.
"As a dad, I think differently, maybe I am wrong. He is your franchise player, the number 10, he took [that number] on when no one was ready to take it from [Lionel] Messi.
"What annoys me is how they're treating him in terms of minutes. One minute, two, three.
"I am not asking for him to be a starter, because all the forwards at the club are phenomenal, but we are talking about Ansu Fati, of Spain and Barcelona, who came through La Masia."
It is now at the point where Bori no longer wants to visit Camp Nou to watch his son play.
"If it carries on like this, I will go [back] to [the family home in] Seville and that's that," said Bori.
"I didn't go to the game against [Real] Madrid. I won't go to the stadium anymore.
"The other day Ansu asked me why I didn't go, he thought I was there. I told him I didn't fancy it."
Tags