Fast-starting Celtics condemn Nets to heaviest loss in nine years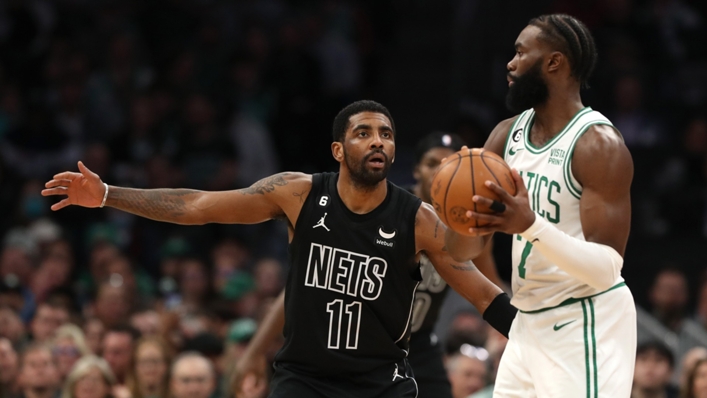 The Brooklyn Nets fell to their worst loss in nine years after a hugely one-sided first quarter teed the Boston Celtics up for a 139-96 win.
The Nets had lost their previous two games against the Celtics this year, but this was by some margin the worst of the lot.
A 43-point loss was the Nets' heaviest since losing by 44 against the Portland Trail Blazers in February 2014.
Brooklyn never gave themselves a chance after being outscored by 30 in the first quarter, shooting one of 12 from the field to start as shot after shot went in at the other end.
The Nets' 23.1 per cent three-point shooting over the game stood in stark contrast to the Celtics' 48.1 per cent as Jayson Tatum (31 points) and Jaylen Brown (26 points) made seven threes apiece.
The pair were the first Boston team-mates to each make seven threes in the same game in franchise history, and the huge lead even allowed them to sit the fourth quarter.
Former Celtic Kyrie Irving was one of seven from beyond the arc on his way to 20 points and a plus/minus of minus-31.
Another big performance from Damian Lillard saw Portland rally to beat the Memphis Grizzlies 122-112.
Lillard scored 42 points, including a stunning seven-point play early in the third quarter, along with his 10 assists and eight rebounds.
The point guard has now topped 30 points in five straight games as the Blazers have gone 4-1 and 11 of 13 games going back to early January.
The Philadelphia 76ers had suffered a shock loss in their previous game at home to the Orlando Magic two days earlier, but a rematch went according to plan.
Joel Embiid, the bright spot in that loss, was again influential with 28 points and 11 rebounds in a 105-94 win.
Markelle Fultz, Embiid's former Sixers team-mate, had celebrated victory on his first return to Philadelphia and again tried to lift the Magic in this loss, finishing with a team-high 18 points on seven-of-11 shooting.
Tags