Euro Flashback: Sweden and Denmark's convenient draw costs Italy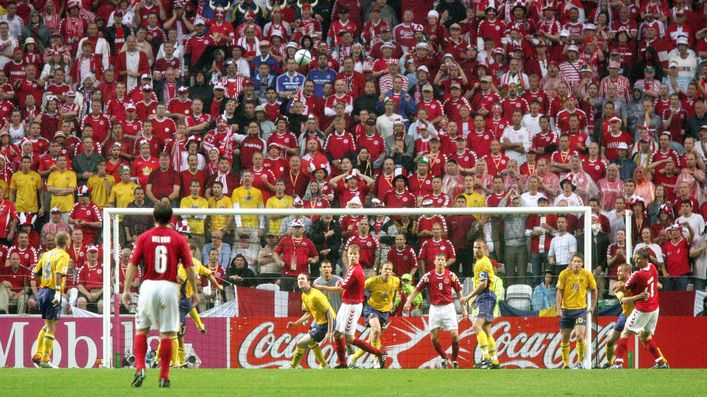 Throughout Euro 2020, LiveScore will be looking back at classic games from previous tournaments. Our latest column remembers a highly convenient 2-2 draw between Scandinavian rivals Sweden and Denmark.
It's not often Sweden and Denmark are in agreement but at Euro 2004 they played out a mutually beneficial 2-2 draw which eliminated Italy from the tournament.
With Group C finely poised going into matchday three, the Scandinavian nations knew that result would guarantee their place in the quarter-finals, ahead of Euro 2000 finalists Italy.
Despite strenuous denials in the run-up to the game from both camps, that was exactly what transpired in Porto.
'Ridiculous' claims
The respective coaches were in agreement. Their sides would not 'fix' a result that would send them both through in place of the Azzurri.
When questioned about the possibility of a two-all draw, Sweden boss Tommy Soderberg said: "That's ridiculous. Don't speak about that. We are honest people.
"We are going out to win the game and that's all. (Italy) can speak about these things but not Denmark and Sweden. We are going honestly for a result."
Co-coach Lars Lagerback toed a similar line, and said: "Machiavelli might have been Italian and Italians might like to think in a Machiavellian way, but it would not be possible to play for a 2-2 draw against Denmark and I don't think it will end 2-2 – that is a very unusual result."
End-to-end encounter
In rainy conditions at the Estadio do Dragao, Denmark made the better start.
Jesper Gronkjaer fired a warning shot into the side netting before Jon Dahl Tomasson gave Denmark the lead in stunning fashion.
Ebbe Sand flicked the ball into the AC Milan forward's path and, spotting Swedish keeper Andreas Isaksson off his line, Tomasson lobbed home from 20 yards.
Sweden hit back, with Thomas Sorensen forced into saves from Henrik Larsson and Zlatan Ibrahimovic before Olof Mellberg thumped the post with a header.
After the break, the Danish keeper was adjudged to have brought Larsson down in the area and the Celtic legend converted from the spot with minimal fuss.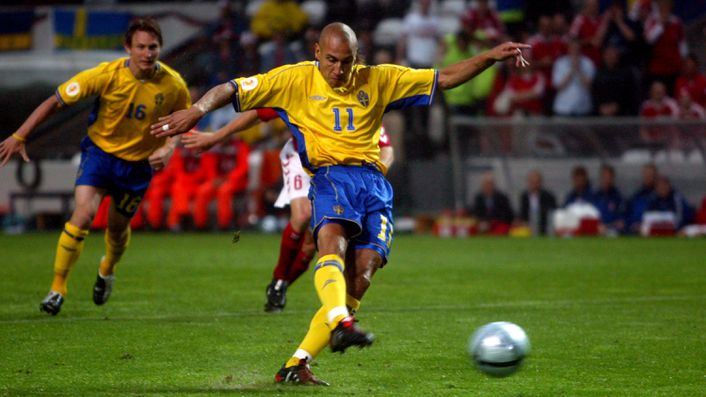 Late drama
Shortly after the hour mark, Tomasson got his second to restore the Danes' lead.
Kasper Bogelund's corner was not cleared and Tomasson was on hand to drill past Isaksson.
That looked to have sealed it until two minutes from time.
Christian Wilhelmsson's cross wasn't held by Sorensen and Mattias Jonson was the man in the right place at the right time to scramble the ball home and secure a controversial result.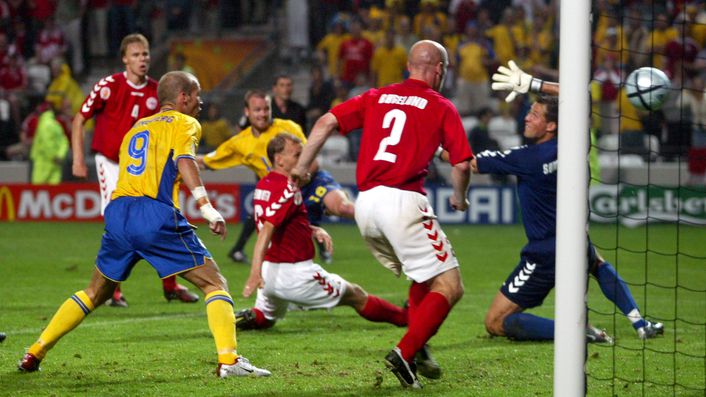 Italian outrage
Italy, who beat Bulgaria 2-1, did not take kindly to the result as they crashed out.
Italian Football Federation president Franco Carraro said afterwards: "The way the game developed shows that the two teams were aiming for a draw."
But Danish coach Morten Olsen was unimpressed and retaliated by saying: "Anyone who saw the game knows no-one tried for that result."
Neither Denmark nor Sweden advanced any further than the quarter-final, however, with the Swedes beaten on penalties by the Netherlands and the Czech Republic crushing the Danes 3-0.
Seventeen years on, the current Denmark side need more than a highly convenient draw to escape Group B tonight.
Tags