Eriksen: Contrasting qualities key to Fernandes relationship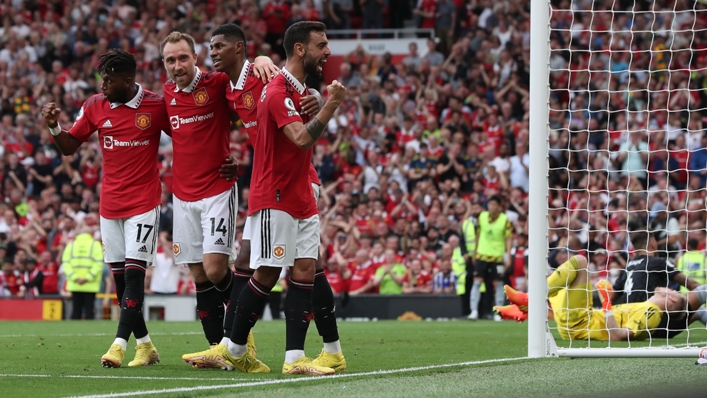 Christian Eriksen believes he and Bruno Fernandes have formed a strong relationship in Manchester United's midfield due to their complementary qualities.
Eriksen has become a key part of Erik ten Hag's new-look United team since swapping Brentford for Old Trafford in July, playing behind Fernandes in a deep-lying midfield role.
The Denmark international produced a masterful showing in United's last Premier League game against Arsenal, claiming an assist and leading his team-mates for passes completed (33) and chances created (three) in the 3-1 victory.
Speaking to United's media channels after winning the club's Player of the Month award for September, Eriksen said playing alongside Fernandes was a key reason for his success.
"Some people see us as very similar players, but they probably only look at the stats and don't see us, the player and the qualities," Eriksen said.
"We have different qualities, a different style of play and, with Bruno and in general, I think I'm learning to get to know all my team-mates better.
"We're starting to get that connection. With Bruno, it's a good connection and it's nice to have such a good footballer in front of me.
"I think, from my own point of view, it's only been a few months but it feels like I've been here longer.
"It's to do with the club, the people working for the club, the team. In general, I've been made to feel very welcome since day one and I felt at home straight away."
Eriksen carried his strong club form onto the international stage this month, scoring in Denmark's Nations League defeat to Croatia before producing a strong performance in a 2-0 win over France.
The 30-year-old will hope for a similar result when Denmark are reunited with Didier Deschamps' team in the World Cup group stages in November, but he expects to face a much-improved France side.
"We play France very often! In the Nations League, also before in the World Cup [in 2018], we played against France and now again," he added.
"The game was good for us the other day. It was a nice send-off before the World Cup, to get a good feeling before the World Cup.
"We know, at the same time, France will be a completely different team when we play them next, with different players compared to what they had, but, for us, as a team, it was a perfect goodbye before the World Cup.
"Now there's no more breaks and I can be fully focused on United until the World Cup."
Ten Hag's team will face their toughest test to date when they travel to Manchester City on Sunday – each of United's last five managers have lost their first Manchester Derby in the Premier League (David Moyes, Louis van Gaal, Jose Mourinho, Ole Gunnar Solskjaer and Ralf Rangnick).
But Eriksen is looking forward to his first trip to the Etihad Stadium as a United player, adding: "It's going to be a tough test.
"We're feeling good and in a good place, really flowing and I'm looking forward to the game.
"It's a first derby for me personally, in Manchester, and hopefully it's going to be a fun game to play in and a fun game to watch."
Tags