Ten Hag confident Rashford can score 40 goals in a season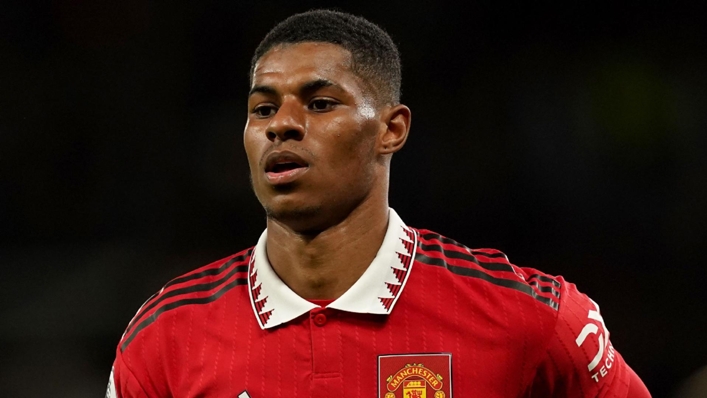 Erik ten Hag believes ever-improving Manchester United star Marcus Rashford can become a 40-goal-a-season forward.
The 25-year-old pressed reset last summer after the most chastening year of his career, kicked off by his heart-breaking penalty shoot-out miss in England's Euro 2020 final defeat to Italy.
Post-tournament shoulder surgery kept Rashford sidelined and an initial flurry of goals on his return quickly dried up amid widespread criticism.
But a priceless pre-season under new boss Ten Hag led to a resurgence, with Rashford scoring his 30th goal of the season in all competitions in Thursday's 4-1 win over Chelsea.
Rashford's best haul saw him become the first United player to reach 30 goals since Robin van Persie a decade ago, but Ten Hag believes the best is yet to come.
"There's a lot of room for improvement in his game," the United boss said ahead of Sunday's Premier League finale against Fulham. "I'm convinced he could score even more.
"I think when you take, for instance, the last 10 games, he didn't score so many goals. I think only two or three.
"So, yeah, he can improve but I am happy from where he was last season to what he did now, that he brings himself back.
"We supported him where we could, with the way of play but also in his mental mindset, so we are happy with that.
"But, yeah, we have to push for more and I am sure he's capable to score 40 goals in a season, to make also for him the next step."
Asked if Rashford's form takes the pressure off getting a striker in the summer, Ten Hag said: "We need across the squad more scoring abilities.
"You can't be dependent on one. But it can also come from this squad, but we need more scoring abilities."
Ten Hag has stressed the need for additions and internal improvements after a promising first season in the dugout.
United won February's Carabao Cup and face Manchester City in the FA Cup final after wrapping up a Champions League return with a game to spare.
"We have to look to ourselves," Ten Hag said about the next step. "We want to win the cup but that is for next Saturday and we have to do everything that's in our power.
"I think in many aspects we can improve with this group of players, with this team. I know where we have to improve. I think there is a lot of room for improvement, yes."
Ten Hag feels "fantastic in this club" and says Manchester feels like a home away from home, where the reaction to people he meets on the street is "absolutely positive".
That feedback would be even greater from the red half of the city if United can stop rivals City's treble charge at Wembley in the FA Cup final.
Asked if the FA Cup final was a free hit given what they have achieved already and City's standing or a chance to send a statement, Ten Hag retorted: "Both not.
"But when I was here one year ago, I said we wanted to win trophies. We have won one, so we want to go for the highest.
"But that is a long, long way, it's going to be a project. That's not over one year. We're talking over one to three years.
"But when there's an opportunity to win a trophy, for every player it's massive.
"I have to count but there are not so many players in our team, in our squad who have won the FA Cup. The FA Cup is huge for everyone in the world.
"You can have won the Champions League, you can have won so many titles, but when you have the opportunity to win the FA Cup, it goes all over the world, global-wide, a huge reputation.
"I know from the Netherlands how big the FA Cup is, so we have the opportunity to win that.
"We are also realistic (that) it's not going to be easy but I can assure you one thing: we will give everything that's in our power to get the cup."
Tags