Jones mocks critics of Southgate after Three Lions backlash
John Skilbeck
Stats Perform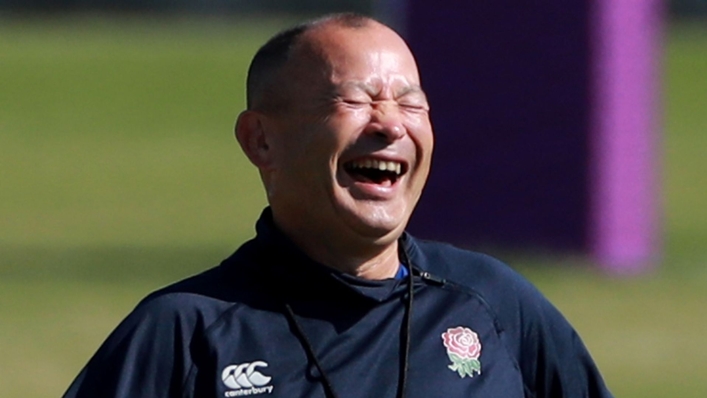 Eddie Jones finds it laughable to hear Gareth Southgate coming in for heavy criticism after the England football team's poor Nations League results.
England rugby union head coach Jones says those rushing to judge Southgate's aptitude as boss of the Three Lions are showing they have short memories.
Southgate led England to the 2018 World Cup semi-finals and to the Euro 2020 final, but two defeats to Hungary either side of draws with Germany and Italy have led to a backlash.
There has been a clamour among some impatient supporters for Southgate to be replaced before the World Cup gets under way in November.
Jones said he "100 per cent" understood the position in which Southgate finds himself, having faced flak himself over England's rugby results.
He also pointed to the upturn in English cricketing fortunes this month as another sign of how fickle England fans can be, with the team emerging from a desperate rut in the Test game and suddenly being hailed as world-beaters.
"I find English sport amusing in that way," Jones said.
"English cricket two weeks ago didn't know what they were doing, complete debacle. They win two Tests, and now where can they go? They can go to Australia and they can beat Australia in the Ashes with 10 men, they're that good now.
"And English football, they were the darlings, and they lose a couple of games and you can see their players are probably struggling after a hard season, and now they're the worst thing since sliced bread.
"So everyone takes a turn in the chair. We've had our turn in the chair, and hopefully we'll move to a chair on the more comfortable side now."
Jones and Southgate have previously met to exchange coaching ideas, and both will hope those pay off in the big tournaments that lie ahead.
England's rugby side suffered a dismal Six Nations at the start of the year and travel to face Australia in three Tests next month.
Speaking on BBC 5 Live Sport, Jones said his team were in a rebuilding process, with the focus on shaping a unit to be competitive at the Rugby World Cup next year in France.
"There's always criticism when you don't win – particularly when you're with England there's a lot of criticism – but we know we've got to go through the process of rebuilding the team and sometimes that's a bit uncomfortable," Jones said.
He said the Australia series was an "opportunity to create new history", but there will be a poignant reunion Down Under for Australian Jones, too.
"I haven't been back to Australia since 2019, so I get to see my mother, who's now 97, and she rang me this morning and said, 'Make sure you win'," Jones said. "So you can see where I get my competitive spirit from."