England suffer a 'kick in the teeth' as Kane reflects on one of his best goals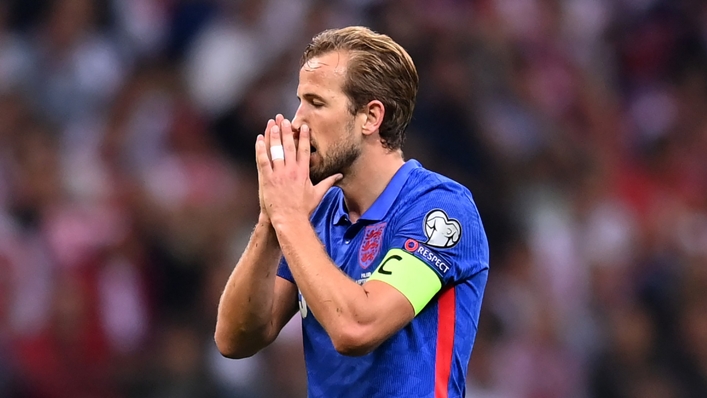 Harry Kane described Poland's late equaliser as "a kick in the teeth" after England's winning run in World Cup qualifying was ended on Wednesday.
Gareth Southgate's side took the lead through Kane's stunner in Warsaw, but were pegged back by Damian Szymanski's header from Robert Lewandowski's cross.
The Three Lions still sit top in Group J, five points clear of Albania and six clear of Poland in the hunt for a spot at Qatar 2022.
"A kick in the teeth at the end there, it's never easy conceding in the last minute," Kane told BBC Radio 5 Live.
"It was a good performance from the boys though, we controlled the game well.
"Of course [there was an 'edgy' atmosphere], we're playing for the opportunity to play in the World Cup. Poland clearly saw this as their last opportunity to take some points off us and get closer to us in the group.
"I thought we handled it well. The Hungary game and this game away from home were not easy to play in. The boys stepped up and put in good performances."
Kane also believed his goal - a superb effort from around 25 yards out - was one of the best he has netted in his international career, as he moved onto 41 England strikes (only four players have scored more).
"That's probably one of the best goals, probably the furthest out I've scored for England," added Kane, who has now netted in 15 consecutive such games across the World Cup and European Championship, tallying 19 goals.
"I caught it really nicely, it wobbled in the air and caught the keeper off guard. It was a nice one to get because it's a tough place to play and it broke the deadlock, putting us in a good position. Hopefully I can continue that going into the next camp."
A fracas broke out between the teams at half-time, with Kane explaining England's players had reported an incident to the Football Association.
"There was an incident just before half-time which has been reported to the FA guys," he said. "They're taking care of it and investigating it and we'll go from there.
"Allegedly it was something that was done, not said. We haven't had a chance to look at the footage and talk to the lad."
Southgate, meanwhile, was satisfied with England's performance in what he labelled the most difficult game of their qualification campaign.
"It was no surprise that this was the hardest game in the group. Early in the game, we were a little slow to move the ball and Poland pressed us well," he told 5 Live.
"In the second half we controlled the game. If there's a criticism it's that we didn't create enough clear chances from that possession and we didn't get enough players in the box.
"While it's 1-0 you run the risk of what happened at the end. We're clearly disappointed not to get the three points but I have to look at what the players have done across these three matches.
"Given that there was no way of telling how they would react after what happened in the [Euro 2020] final, I think their mentality and application has been really good."
Tags