England and Dortmund stars rate Bellingham as teenager with world at his feet
John Skilbeck
Stats Perform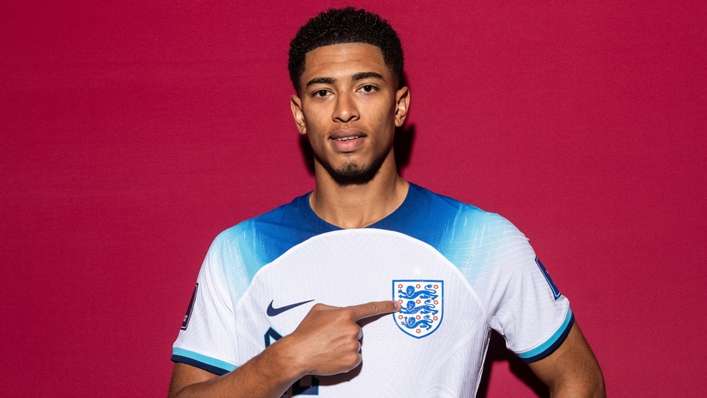 Jude Bellingham can take the World Cup by storm with his "unbelievable" talent, according to England team-mate Luke Shaw and Borussia Dortmund goalkeeper Gregor Kobel.
At the age of 19, Bellingham could be handed a prized England midfield berth in Gareth Southgate's starting XI at the Qatar finals.
The teenager's development at Dortmund has been so great he was handed the chance to captain the team last month, when Marco Reus and Mats Hummels were unavailable.
Having begun his career at Birmingham City, Bellingham has built on his early promise while in Germany, where he is flourishing in his third season.
Left-back Shaw, who scored for England in last year's European Championship final, has seen young players come and go during his England career.
"The one I've been most surprised about when he first got involved is Jude," said Shaw. "He's obviously still so young now, but the talent he possesses is unbelievable.
"He can do everything in that middle. He can drive with the ball, he can pass, he's aggressive. He's got everything. When I first saw him when he was first involved in the England squad, even then I thought, 'Wow, this guy is going to be so good, and he already looks like a man'.
"Over the past couple of years, being here in the squad with him, he's always had the talent, but he's starting to develop and gain experience.
"He's becoming more a man, when you look at him and his strength. He's captaining his club and I think it's showing, the steps that he's taking are leading him in the right direction."
Shaw, who plays his club football at Manchester United, told England's Lions' Den programme he sees Bellingham being prominent for England at many future tournaments.
"He'll be a very big part of this England squad for the success that we will have in the coming years," Shaw added.
England get their campaign under way against Iran on Monday, before facing further Group B games against the United States and Wales.
Bellingham's club-mate Kobel also sees the youngster as having the potential to be a roaring success for England over the coming month.
Asked whether Bellingham could be one of the stars of this World Cup, Kobel said: "For sure, he's an unbelievable talent. He has so much quality and I think his mind is also really strong.
"He always wants to get better, always wants to win the game, and even now at his young age he can have a lot of impact everywhere."
Tags