Embiid asks 76ers fans to support Simmons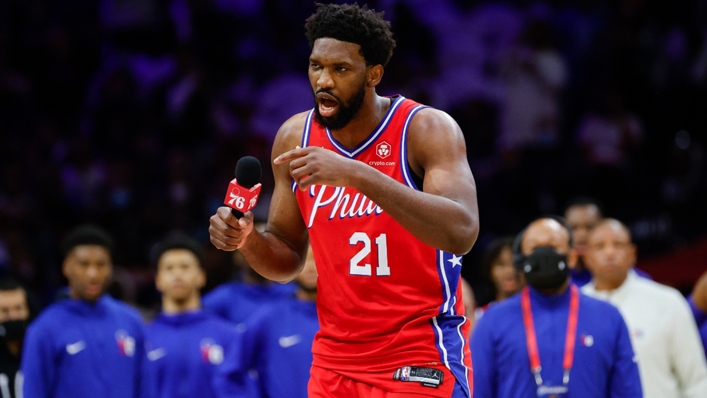 Philadelphia 76ers star Joel Embiid made an impassioned plea for fans to support team-mate Ben Simmons amid his continued absence.
Simmons is yet to feature for the 76ers this NBA season, sitting out Friday's clash with Eastern Conference rivals the Brooklyn Nets, having been suspended for Wednesday's opener against the New Orleans Pelicans due to "conduct detrimental to the team".
The three-time All-Star has sought a trade away from the 76ers following last season's shock playoff exit to the Atlanta Hawks, while he was reportedly ejected from Tuesday's practice as head coach Doc Rivers grew frustrated with his lack of engagement.
After a meeting between Simmons, Embiid and the rest of the team, last season's MVP runner-up threw his support behind the former number one pick prior to tip-off against the Nets in Philadelphia.
"I urge you guys to continue to support us and our team-mate Ben, because he's still our brother," Embiid said as he grabbed the microphone on court.
Following the meeting, ESPN reported Simmons notified the 76ers he was not mentally ready to play and needed time to step away.
"I felt good up and down throughout and I kept saying that, things do change," Rivers told reporters pre-game.
"That still doesn't mean it's gonna work out perfect or it could, but I always believed that. I've never wavered from that. I've said that 100 times and I still stick with it."
Rivers added: "It was a productive day, but it's a start. That's the only way you can get going, you gotta start, and today was a start."
Simmons – an elite defender who signed a five-year, $177.2million contract extension in 2019 – and his shooting problems were laid bare during the 2021 postseason with the top-seeded 76ers, who were eliminated in the semi-finals.
The 25-year-old had no fourth-quarter field-goal attempts in his last four games of the playoffs against the Hawks last season. He is the only NBA player in the last 20 seasons to have four consecutive postseason games with no field-goal attempts in the fourth quarter during a season in which he was an All-Star, according to Stats Perform.
Simmons averaged just 10.1 field-goal attempts in 2020-21 – a career low, which dropped to 7.9 in the playoffs. It was the same story with his scoring as it dropped to a career-worst 14.3 points per game and 11.9 in the postseason – both career lows.
Then there is Simmons and free throws. He was exposed by rival teams as they regularly sent him to the line, with the Melbourne-born guard making just 25 of 73 shots in the 2020-21 playoffs. His 34.2 free-throw percentage is the lowest ever in a single postseason.
"He is part of the team," he continued. "We have certain rules, obviously, the other day, that didn't happen, but today was a good day.
"Most people, we look at problems instead of the possibilities and I think if we focus on the possibilities, just in life in general, you have a pretty good chance of going to a good place. If you focus on the problems, you're probably gonna continue to have problems."