Eagles trade three-time Pro Bowler Zach Ertz to Arizona Cardinals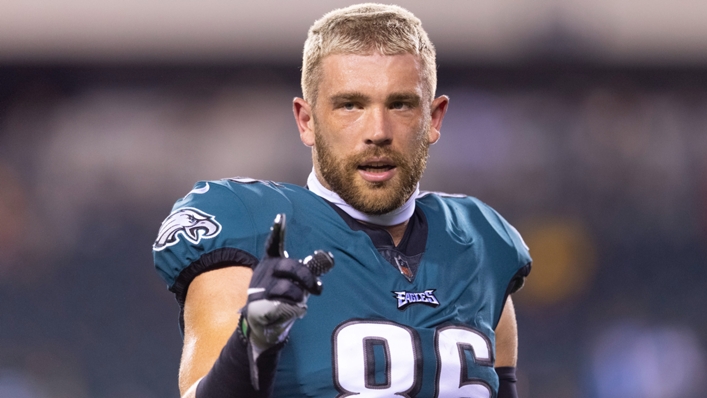 The Philadelphia Eagles have traded three-time Pro Bowler Zach Ertz to the Arizona Cardinals.
The 30-year-old tight end forged what the team described as a "special legacy" in an eight-year spell in Pennsylvania that included winning Super Bowl LII.
Ertz joined the Cardinals in exchange for a fifth-round draft pick in 2022 and rookie cornerback Tay Gowan, it was confirmed on Friday.
Ertz's defining moment for the Eagles came in the Super Bowl defeat of the New England Patriots three years ago, his 11-yard catch and drive for the end zone late in the fourth quarter helping to secure a 41-33 victory.
A second-round pick in 2013, Ertz made an NFL-record 116 receptions in 2018 and is second only to Harold Carmichael for catches in Eagles history, making 579 in the regular season and 33 in the playoffs.
He signed off in style on Thursday, scoring a touchdown in the 28-22 loss to the Tampa Bay Buccaneers at Lincoln Financial Field in what proved to be his final appearance for the franchise.
"Zach Ertz built a special legacy in Philadelphia," said chairman and CEO Jeffrey Lurie. "Talented, tough, and passionate, he helped to establish our team's culture and played a vital role in our success over the years.
"Zach created so many memories that will live on forever, from setting numerous franchise and league records, to reaching across the end zone for the game-winning touchdown in our first-ever Super Bowl Championship. He will always be a member of the Eagles family, not only because of what he accomplished on the field, but also because of the wonderful person, dedicated leader, and exemplary role model that he was for nine seasons in Philadelphia. We wish Zach and [wife] Julie nothing but the best."
The Cardinals, top of the NFC West after a 5-0 start, welcomed Ertz as a "talented replacement" for Maxx Williams, who is out for the rest of the season with a knee injury.