Donnarumma: Italy lacked 'everything' in Germany defeat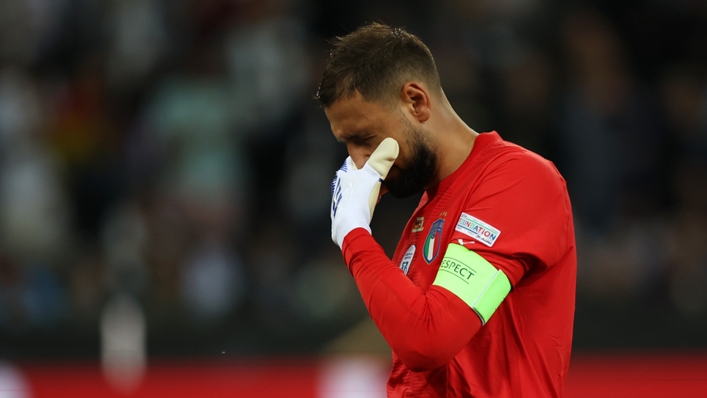 A defiant Gianluigi Donnarumma claimed he will have his "head held high" following Italy's 5-2 defeat away to Germany in the Nations League on Tuesday.
Germany led 5-0 at one stage in Monchengladbach and wearing the captain's armband, the Azzurri goalkeeper had a disappointing night personally, with Timo Werner pinching the ball off him before making it 4-0.
Goals from Wilfried Gnonto and Alessandro Bastoni provided small consolation late for Italy but for an inexperienced squad, Tuesday's loss was a harsh reminder of international football's margin for error.
Asked whether distribution with his feet was an aspect he needed to improve upon post-game, after similarly getting his pocket picked in Paris Saint-Germain's Champions League exit, the 23-year-old responded angrily.
"When did it happen before? When I was fouled against Real Madrid? If we want to cause controversy over these things, then fine," Donnarumma told RAI Sport. "I am here to talk for the team. If you want to blame me, fine, I'll take the blame, I am the captain and I keep going with head held high.
"I think you're all trying to create something about these errors, fine.
"We are angry. There are no excuses, we have to get back out there and prove this is not us. There are simply no excuses."
The Azzurri sit third in Group A3 after two draws and a win in their opening three games but following their loss in the UEFA/CONMEBOL Finalissima, Tuesday's defeat represents a return to square one.
Donnarumma suggested end-of-season fatigue had been a contributing factor, but it had not been primary in Italy's performance in Germany.
"We were lacking everything tonight," he said. "There was also some fatigue after four games in 15 days at the end of the season, but we don't want to seek alibis. Now we will look each other in the eye and analyse everything.
"We're really disappointed for the fans, for what they saw tonight. We had a few chances, but it's not good enough. We'll analyse everything and start again.
"All of us made mistakes. I could've dealt with the situation better at 4-0 and kicked it away, but you learn from mistakes and grow. Now we just have to rest and come back much stronger than this."
Tags