Djokovic had hamstring tear at Australian Open, claims tournament boss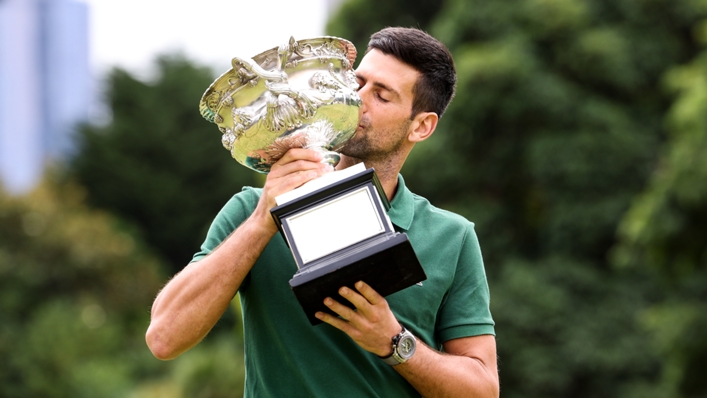 Novak Djokovic won the Australian Open despite playing with a three-centimetre hamstring tear, according to tournament chief Craig Tiley, who paid tribute to the Serbian's resolve and drive.
Having missed last year's opening grand slam due to being deported for breaching Australia's border rules relating to his COVID-19 vaccination status, Djokovic returned in January and beat Stefanos Tsitsipas in the final to claim a record-tying 22nd men's singles major on Sunday.
The feat, which drew him level with Rafael Nadal, was made all the more remarkable by an apparent hamstring problem that hampered the 35-year-old throughout the tournament.
Some critics suggested the extent of Djokovic's injury was exaggerated, but Tiley defended him.
"A lot of the challenges around Novak is that he gets a bad rap," he told SEN Sportsday. "But at the end of the day, I don't think anyone can question his athleticism.
"This guy, he had a three-centimetre tear. [The scans and] the doctors are going to tell you the truth. There was a lot of speculation about whether it was true or not.
"It's hard to believe what they can do with those kinds of injuries. He's remarkable, to deal with it extremely professionally."
Ten of Djokovic's 22 grand slam titles have come in Melbourne alone, outlining his impressive dominance at the event.
Tiley does not see the Serbian ever being overhauled when it comes to his impact there, adding: "He's so focused on everything he does, with every single minute of the day. That's what he eats, what he drinks, when he does it, how he does it.
"There's no breakdown or mental breakdown in anything that he does. He's been through a lot and to win 10 Australian Opens, I don't think that's ever going to be repeated.
"Over the last 15 years – he tells me it's 14 years because he missed last year – it's such a remarkable achievement.
"He'll hold a significant place in the history of the Australian Open."
Tags