In Focus: Diogo's Jota chance to become Reds' first choice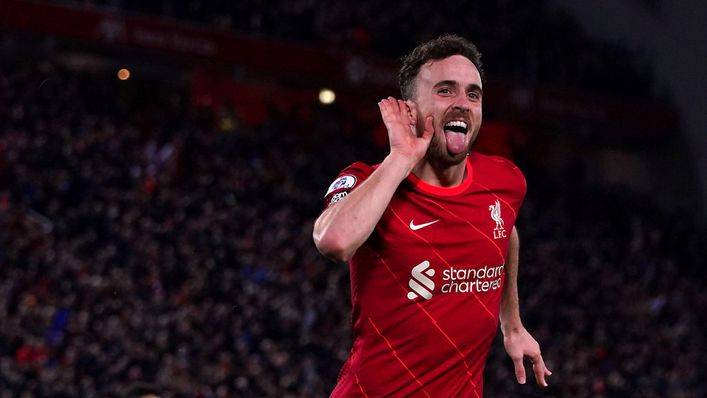 Liverpool's signing of Diogo Jota has looked a masterstroke ever since he pulled on the famous red shirt.
The Portuguese forward continues to go from strength to strength under Jurgen Klopp.
Now it looks like he could break up the famous three of Mohamed Salah, Sadio Mane and Roberto Firmino.
But will the 24-year-old steal Firmino's spot in the team permanently or is it a little more complicated than that?
Playing time
Jota has already made nine Premier League starts this term — just three fewer than he managed in his entire first season at Anfield.
Injuries have played their part but the Portuguese was in Klopp's starting XI on the opening day.
And the German has trusted him in some of Liverpool's biggest games too, featuring from the off against both Manchester City and Manchester United.
In return, Jota has repaid his manager's faith with his performances — finding the back of the net five times in the Premier League and once in Europe so far this season.
Former United defender Rio Ferdinand said: "I love him. That's what I love about Liverpool. He's not even their starting player. If they're going to play their first three up front, he doesn't start.
"Recently, Firmino's been the man. And I think if Klopp had a final next week, Firmino plays. But he's got someone who comes in and always delivers. It's beautiful to see."
Firmino battle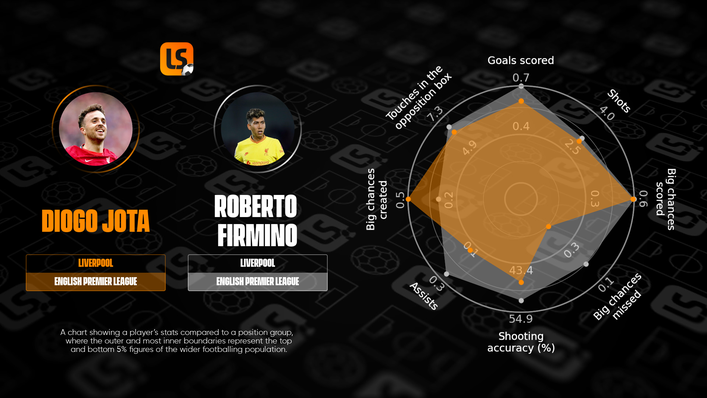 It is not as clear cut as Firmino starting and Jota missing out, though.
The Brazilian pulled his hamstring against Atletico Madrid in the Champions League and has been sidelined since the start of November.
He had started each of the three league games before then — actually playing alongside Salah and Jota at Old Trafford.
But at the beginning of the campaign, Jota was the man Klopp picked. The 24-year-old's emergence is not something Firmino, now 30, is worried about either.
On the competition, he said: "I'm chilled! Everybody that plays, they always look to give their all to Liverpool and those that have been playing, they have been doing a fantastic job.
"That has to continue from everybody, with the aim of helping the team to secure wins, helping each other to form a victorious team."
Differing styles
It is not like Jota is a direct replacement for Firmino, either.
Since the start of last season, Jota has managed 0.67 goals per 90 compared to the Brazilian's 0.36.
The former Wolves striker has also taken substantially more shots than Firmino and boasts a better shooting accuracy over that time too.
But that does not tell the whole story.
Firmino creates 0.22 goals per game compared to a lowly 0.05 for Jota — that figure puts the 24-year-old way behind Mane and Salah too.
Stats show he also has substantially fewer touches than the other regular Liverpool forwards and attempts fewer passes.
Interestingly, Klopp calls Jota a "pressing monster" — yet he wins the ball back less in the final and middle thirds than Firmino.
In short, the two players offer very different styles to the Reds. It is not quite as simple as one or the other — as the victory at United showed.
January chance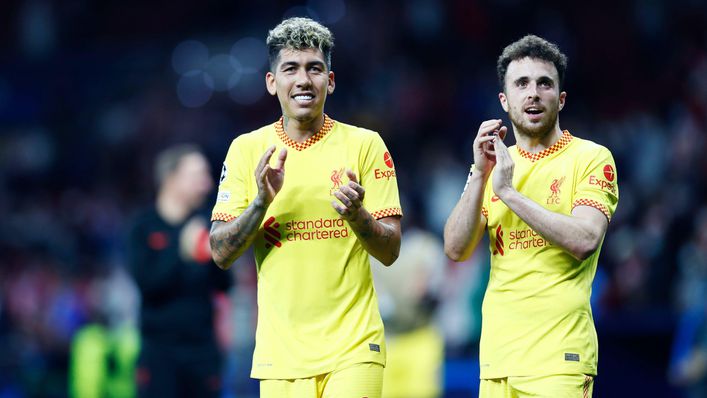 That is good news for Klopp and Liverpool with the Africa Cup of Nations on the horizon.
Mane and Salah have been among the world's best players for a number of seasons and will be missing for an important phase of the Merseyside club's title challenge as a result of the winter tournament.
Firmino and Jota will both be required week-in, week-out when the duo are gone.
That will give the Portuguese further opportunity to cement his spot in Klopp's first choice line-up.
Not that the German needs any convincing on Jota, having heaped praise on him already this season.
Klopp said: "Exceptional player. Really, really happy that we signed him.
"Honestly, he's got a really strong personality, you cannot know about that before you meet the person.
"He's really — even for his young age — a very mature man, that makes it really enjoyable to work with him.
"It's not easy to improve us, but Diogo did definitely. Scored important goals, he is actually a player made for our style — pretty intense, technically good, really fast, good in the air, both feet really good.
"Diogo's a very interesting package and I'm really happy that we saw that and we could realise the transfer."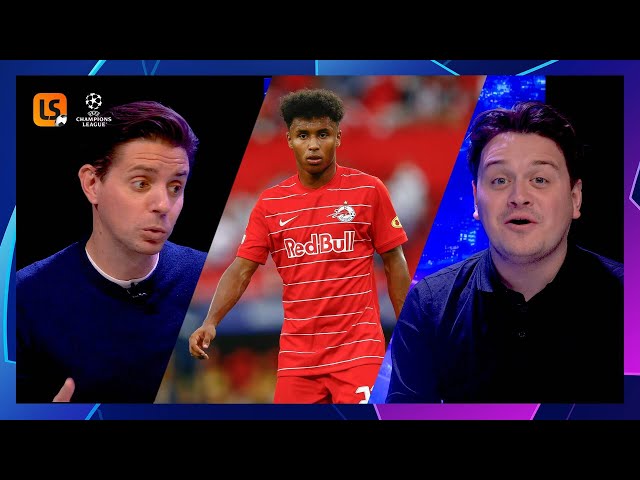 Tags