Deschamps denies captaincy grief as Griezmann links with Mbappe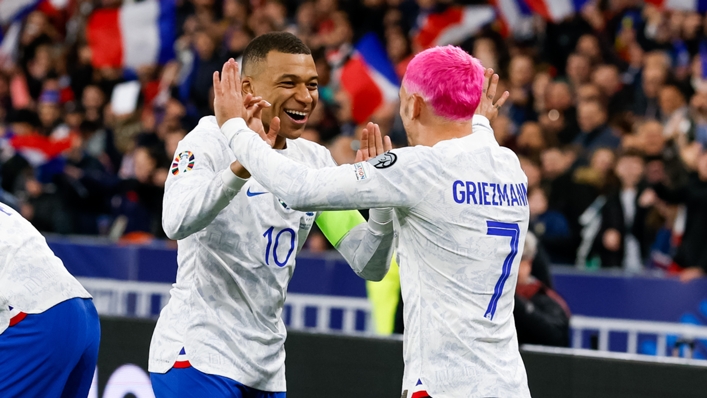 Didier Deschamps says Antoine Griezmann's disappointment at being overlooked as France captain for Kylian Mbappe "lasted two minutes".
It actually took less than two minutes for Mbappe to provide an assist for Griezmann to set France on their way to a 4-0 win against the Netherlands on Friday to make a strong start to their Euro 2024 qualifying campaign at the Stade de France.
Deschamps had announced Mbappe – who also scored twice after Dayot Upamecano had found the net – as his new captain ahead of Griezmann, but said at a post-match press conference that there are no issues between the two.
"Fortunately, I don't know what is said and written. The two get along well, they work well and they have the same objective of seeing the French team perform well," he said.
"Antoine's disappointment lasted two minutes. There is not the slightest problem, like the whole group. Everyone gave off positive vibes."
Mbappe completed the scoring in the 88th minute, though the Netherlands won a penalty in stoppage time, only for Mike Maignan to save from Memphis Depay.
While Mbappe replaced Hugo Lloris as captain after his retirement, Maignan was playing his first game since being confirmed as Lloris' replacement as France's new first-choice goalkeeper, and Deschamps was in no doubt about the decision.
"It's Mike. I didn't have to ask myself the question," he said. "He was injured but whether it was his qualities as a goalkeeper or his mentality... total confidence. It went very well for him. Mike has everything to take over [from Lloris]."
France had a 3-0 lead after just 21 minutes, having not led so early in a game since December 1953 when they beat Luxembourg 8-0, and had a 2-0 lead by the 10th minute.
"I don't know [if it was a perfect evening], but [it was] a very nice evening," Deschamps said. "The start was very good, efficient... We managed in the second half while continuing to be dangerous. That Mike stopped this penalty at the end ended the evening well."
Deschamps also said there could be changes for Monday's second Group B game away at the Republic of Ireland, adding: "It will be another fight for us to fight."
Tags