Everton legend Southall claims Alli not rediscovering top form will be a 'tragedy'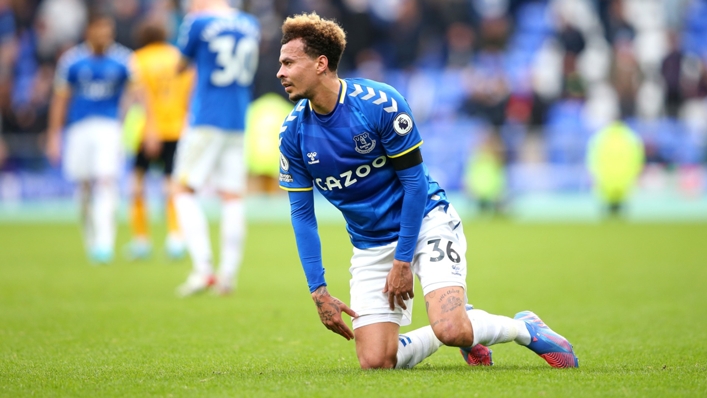 Dele Alli must power through the mental barrier to rediscover his form for Everton otherwise his wasted potential will be a "tragedy", according to Toffees great Neville Southall.
England international Alli ended a seven-year spell with Tottenham to move to Goodison Park in January, with the midfielder signing a two-and-a-half-year deal in what was reported as an initial free transfer.
Everton will reportedly be obliged to pay £10million for the midfielder after he makes 20 appearances and subsequent performance-based add-ons may take the eventual figure as high as £40m.
The 25-year-old is yet to find his feet on Merseyside, while a torrid run of form has left Everton just one point above the relegation zone after earning only 12 points since the start of October.
However, former Toffees goalkeeper Southall told Sky Sports News on Monday how talented Alli could be if Frank Lampard can help him regain his confidence.
"It's difficult. He's obviously not ready. There's something in his head that he can't get through the barrier, that means he can't get on the pitch or there's something missing at the moment," he said of Alli.
"It takes some people a long time. If Dele Alli gets back to being Dele Alli, he'll be a bargain. If Dele Alli doesn't come back, it'll be a tragedy. It'll be a tragedy for the lad, and that's all I'm concerned about, is that he finds himself and his happiness and that will show on the pitch.
"At the moment he looks reasonably happy but he's not played for such a long time, it's a difficult choice for Frank Lampard, does he put him in, risk an injury, is he 100 per cent fit?
"He's certainly not match fit, so for me it's about maybe not using him and getting him ready for next season, give him a break from the pressure, and he comes back and is what he is because everyone needs Dele Alli when he's at it."
Alli is yet to start for his new club in the Premier League, making six appearances as a substitute for his 169 minutes, while he does not have a goal or assist to his name.
He has created five chances this season for Everton from his limited opportunities on the pitch, which is in stark contrast to his best seasons at Spurs.
Alli's best campaign in north London came in 2016-17, when he scored 22 goals in 50 appearances across all competitions, averaging a goal every 182 minutes. He followed that up with 29 direct goal involvements (14 goals, 15 assists) in the 2017-18 campaign.
That ensured a prominent role for Alli at the 2018 World Cup, where England reached the semi-finals, and former manager Mauricio Pochettino went as far as describing him as the best young player in the world.
Lampard will be hoping he can tap into that potential as Everton battle the drop, with their next fixture coming at home to Manchester United on Saturday.
Tags