De Jong blames Barcelona hierarchy, not Xavi, for exit links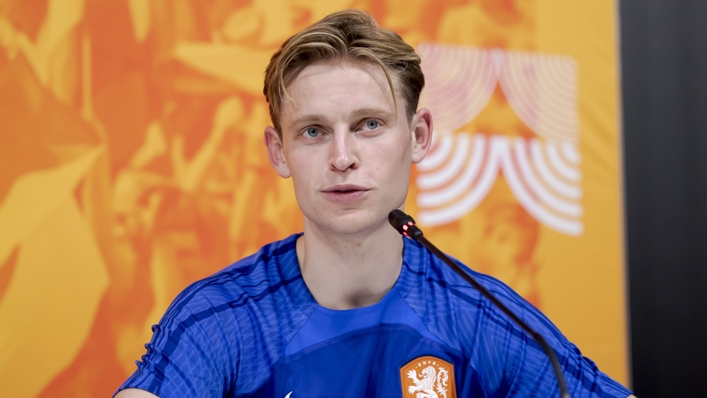 Frenkie de Jong blames Barcelona's hierarchy, rather than head coach Xavi, for the uncertainty which has surrounded his Camp Nou future in recent months.
De Jong – who is set to make his World Cup debut when the Netherlands face Senegal in their Group A opener on Monday – was strongly linked with a move to Manchester United in the last transfer window.
Despite the midfielder repeatedly stating his preference to stay put, Barca reportedly viewed him as the club's most saleable asset as they looked to fund big-money moves for Robert Lewandowski, Jules Kounde and Raphinha.
With Xavi making a series of vague statements on De Jong's future at the time, the Netherlands international believes the Barca boss was put in an uncomfortable position by those above him.
Asked whether Joan Laporta's administration was responsible for the transfer saga, De Jong told De Telegraaf: "I blame these people, but I have nothing to do with them.
"Yes, for me they are Barca because they run it. I don't see them when I'm at the club during my daily routine.
"Xavi, it's true that he left the door open to the possibility of me leaving because he never said 'Frenkie stays'. But I don't blame Xavi.
"I never had the feeling that Xavi was against me, and I think it was difficult for him to talk about all this."
Despite reports suggesting Barca were willing to let him leave, De Jong has continued to play a central role for the Blaugrana this season, making 17 appearances for Xavi's team in all competitions.
De Jong revealed he is targeting an extended stay at the club he joined from Ajax in 2019, adding: "I am very happy in Barcelona.
"When I play it is great and in terms of living here life is perfect. I see myself at Barca. Personally, I see myself here eight or 10 more years."
Tags