Four-goal De Bruyne believes he should have scored more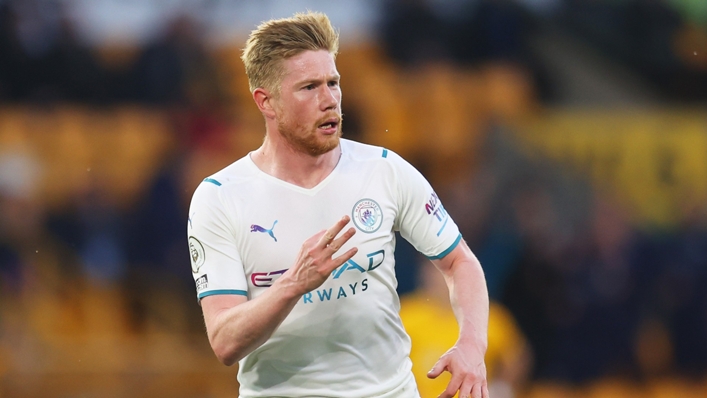 Kevin De Bruyne hailed his four-goal haul as "special" after Manchester City restored their three-point lead at the top of the Premier League by thrashing Wolves 5-1 – but said he should have scored more.
After watching Liverpool beat Aston Villa 2-1 on Tuesday, City ran riot at Molineux as De Bruyne scored four goals, the first three coming in the opening 24 minute to help put Pep Guardiola's team within four points of the Premier League title.
De Bruyne's initial treble represented the third fastest hat-trick at the start of a Premier League game, after Sadio Mane's 16-minute salvo against Aston Villa in May 2015 and Dwight Yorke's 22-minute feat against Arsenal in February 2001.
The Belgian then added a fourth after an hour, becoming just the second City player to hit a quartet of goals in an away Premier League game after Edin Dzeko against Tottenham in August 2011.
De Bruyne, who is enjoying his best goalscoring season for City after reaching 19 strikes in all competitions, was delighted with his showing, but insisted he should have added a fifth when striking the post late on.
"[It was] pretty nice! When you score four goals its always something special, it should have been five to be honest," he told Sky Sports.
"I think we played well, maybe except a couple of counters in the first half, I think we controlled the game well.
"We could even have scored more, and to do that against a Wolves team that's really defensively sound was impressive. I think our front four were able to find the right moments to go deep or come in, and it worked really well.
"My right foot is my stronger foot, but I'm not afraid to shoot with the left. Even if it doesn't go in, it creates a problem for the opposition".
Wolves coach Carlos Cachada, meanwhile, said the hosts could do little to stop De Bruyne's talismanic display, telling Sky Sports: "When it comes to players like this they can score four goals and finish the game, with that performance, we can do nothing about it."
City's dominant win saw them extend their unbeaten Premier League run to 10 games (eight wins, two draws), and they now need just four points from their final two games to wrap up the title.
De Bruyne, however, insists Liverpool could still make up the required three-point and seven-goal swing, saying the two teams had set a "crazy" standard.
"We know at the moment we have a little bit of an advantage in goal difference, but even with seven, with Liverpool that can happen," he added. "We just need to concentrate on Sunday, it's going to be a really tough game at West Ham, so we need to recover and be ready.
"It's a little bit crazy, the standards we both set, you can only respect it. We know how hard it is, and both teams have ultimate respect. We play hard, that's all we can do."
The Premier League title is the only major trophy available to City this term after they crashed out of the Champions League with a stunning 6-5 aggregate loss to Real Madrid last week.
While De Bruyne, who was substituted before Madrid launched their remarkable comeback at the Santiago Bernabeu, was still disappointed with that loss, he said it was time for City to move on.
"Its very difficult to explain because it was just a mad five minutes. It's not that we played bad or something, it was just five minutes that you can't explain as a player," he recalled.
"I don't know what happened, I was out of control on the bench anyway, so you feel a little bit in shock, it's not nice and the feeling is still not nice.
"But you need to move on, we're trying now to win the title and whatever happened unfortunately happened, we have to move on."
Tags