De Bruyne lauds Tedesco work as Belgium rediscover 'fun' factor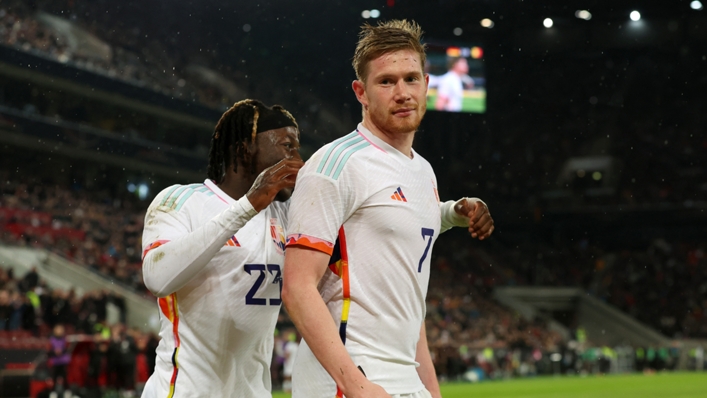 Kevin De Bruyne revelled in a reinvigorated Belgium realising their potential as the new Red Devils captain hailed the "fun" approach Domenico Tedesco has instilled.
Manchester City superstar De Bruyne assisted two and scored another as Belgium defeated Germany 3-2 in Tuesday's friendly at RheinEnergieStadion.
That made new coach Tedesco the first Belgium manager to start his tenure with two victories since Rene Vandereycken in 2006.
Tedesco also became the first Belgium boss to see his side score six goals in his first two matches since 1999 when Robert Waseige's new side managed nine from their first pair of outings.
De Bruyne, whose 46 assists for his country are 15 more than any international team-mate since his August 2010 debut, lauded the early work Tedesco has delivered since Roberto Martinez's exit.
"It was a nice match. The first 30 minutes were very good, full of effort. It's good to see that we can be so good," De Bruyne said on television channel VTM. "After that it was a bit more difficult, but it is logical that you also get into trouble against a team like Germany.
"The last quarter of an hour was hard, but it is good to see that this team can do that too. The combinations were there, defensively it was also pretty good. There were many positives.
"It's fun to play like this, fun for everyone. Not only with the ball, also defensively. We try to put pressure on quickly and win the ball quickly. Then you get the ball back so much faster, that is also the intention of the coach. There were many good moments.
"The coach has already laid a certain foundation, for example in terms of structure. His way of playing is already a bit there, but there are of course also times when it is still a bit difficult.
"But after eight days together, I think this is the best we could do."
Belgium crashed out in the group stages at the World Cup in Qatar as Martinez waved goodbye to what many deem a golden generation of international footballers for the Red Devils.
Martinez's side finished third at FIFA's top international tournament four years before at Russia 2018, sandwiched in between a pair of quarter-final eliminations at the European Championships.
While it appears a vastly talented group of Belgian footballers may end their career without international reward, Tedesco's new era has offered early promise.
A rare win over Germany, who were stunned by early goals from Yannick Carrasco and Romelu Lukaku, coupled with Friday's 3-0 victory over Sweden in Euro 2024 qualifying have left Tedesco impressed.
"Yes, I am satisfied after these two victories," Tedesco said on VTM. "Not only with the result, but also with the way we played. Only we should have finished the game in the first half.
"I wanted my players to show courage, to play forward and to claim the ball, even when Germany put pressure on us. We have the players for it. We have to believe in our own strengths, but we have to maintain the quality we bring for 90 minutes. And that's the problem."
Belgium's elimination at the World Cup came as somewhat of a surprise, given their recent success at major tournaments, and Tedesco is out to offer his new players a lease of freedom.
"The players have qualities, they can play freely here and are allowed to make mistakes," he said at his post-match press conference.
"The most important thing is that they develop as a team and as individuals. We must help and guide them in this.
"It is crucial that the enthusiasm is back. I have a good feeling and am extremely motivated. However, we still have a lot of work to do. If you win, it's more fun, of course.
"But I do not agree that Belgian football was at a standstill after the World Cup. Losing matches at a World Cup, that can happen."
Tags