De Bruyne delighted for new Guardiola contract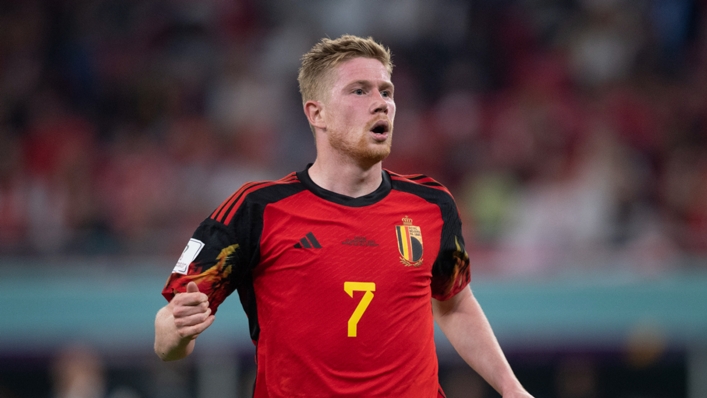 Kevin De Bruyne is delighted with Pep Guardiola's new Manchester City contract, but is frustrated Belgium cannot replicate the Premier League champions.
The playmaker has been a crucial figure for Guardiola during his time at the Etihad Stadium, with the pair establishing a bond that has led them to silverware across multiple competitions.
Yet despite his successes there, De Bruyne has sometimes found it difficult to dictate matches under national team boss Roberto Martinez the way he does for City.
With the recent news that Guardiola has signed a two-year extension, De Bruyne professed his happiness but stressed he cannot expect his country to perform like his club.
"It makes my life a lot easier," he stated. "The way he leads the team is very clear and I feel very comfortable with him. Both our contracts run to 2025, so that makes it easier. I could not be happier."
"[But Belgium] can't play in the same way as Manchester City. As a national team, you have to adapt to the players you have around you.
"Does it frustrate me sometimes? Yes, but I should show that less, although that is the perfection I strive for."
De Bruyne was named player of the match as Belgium began their World Cup campaign with an unconvincing 1-0 win over Canada in Group F on Wednesday.
The midfielder cut a frustrated figure throughout and did not partake in celebrations for Michy Batshuayi's eventual winner, though he is aware he needs to keep his visible annoyance on a leash.
"I do know that my reactions are not always good," he added. "I look for moments afterwards, to find that peace, but people know that it's my way to help the team play better and get more out of the game.
"But of course, I also have to learn to react in a better way. Every now and then the emotions spill over, but that's also part of the game."
Belgium next play Morocco on Sunday, before their final Group F match with Croatia next Thursday.
Tags