Moyes ready for 'biggest moment' of career in first European final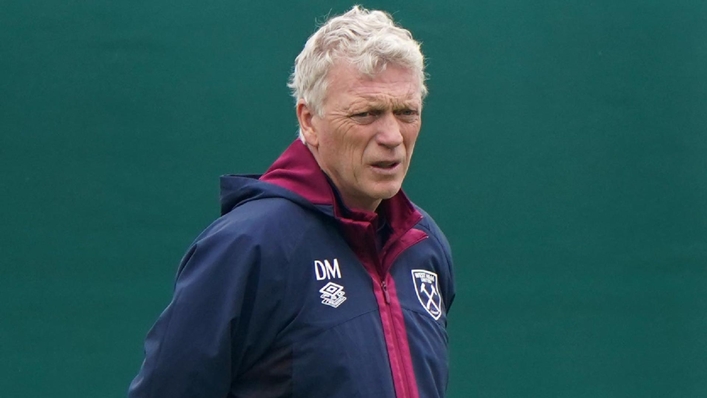 David Moyes admitted it was "surreal" to walk out at the Eden Arena in Prague preparing for his first European final, the "biggest moment" of his career.
Moyes' West Ham face Italian side Fiorentina in the Europa Conference League final in the Czech capital on Wednesday night.
The 60-year-old, who began his managerial career with Preston in 1998, is yet to lift a major piece of silverware, the Community Shield with Manchester United in 2013 notwithstanding.
Moyes is looking to become the first British manager since Sir Alex Ferguson, the man he replaced at the then champions, to lift a trophy, and join the former United boss in the pantheon of great Scottish managers in the English game.
Moyes, who has attended plenty of European finals in his role on UEFA's technical committee, and his players got a first look at the final venue on Tuesday evening.
"It is slightly surreal," he said. "Today, to turn up and have your own dressing room is a big thrill for me. I really hope I can take it to the next level and win the game.
"I've had a really good career since I started coaching at 35. Over a thousand matches, been in some finals, had some promotions. But this is the biggest moment. To be a coach for as long as I've been, you're obviously doing something right."
Moyes also categorically denied suggestions that he could step down after the final, regardless of the result.
"It's great to be sitting here in a European final, for any manager it's a thrill, one of the pinnacles you can get in football as a coach," he added.
"Hopefully it's the start. I've always said the best years are still to come and I'm certainly enjoying the moment and being here."
Moyes' father, David Snr, has attended all their European away matches and will once again be in the crowd at the 20,000 capacity stadium – hopefully.
"I think he'll be in the pub," smiled Moyes. "But to be in this position is very good and good for my family, and I hope they can enjoy it. Hopefully I can give him something he can remember."
Declan Rice will captain the Hammers in what will almost certainly be his final game for the club with Arsenal and Manchester United among those vying for his signature.
Rice, predictably, was not put up in front of the media, high in the home of Slavia Prague, after the on-pitch walkabout.
Instead, it was left to winger Jarrod Bowen to swat aside questions over the England midfielder's future.
"As his team-mates we are excited to go out for a final tomorrow with him as our captain," said Bowen.
"When I joined three years ago, never in my wildest dreams would I have thought we would be in the final.
"We are team-mates and friends and to win it for everyone would be so special. That's what our focus is on."
Moyes has a fully-fit squad, bar injured striker Gianluca Scamacca, as West Ham bid to end a trophy drought stretching back to 1980's FA Cup win over Arsenal.
Cup goalkeeper Alphonse Areola will start but regular number one Lukasz Fabianski, something of a penalty-saving expert over the years, could still have a major role to play if the final goes to a shoot-out.
"We've got those thoughts," said Moyes. "It's about planning, I've got my thoughts – but won't reveal them if you don't mind."
West Ham enjoyed a very agreeable draw on their journey to Prague, but Fiorentina are a different proposition to the likes of AEK Larnaca and AZ Alkmaar.
They finished the Serie A season with a run of 12 wins, four draws and just two defeats and were only narrowly beaten by Inter Milan in the Coppa Italia final.
Coach Vincenzo Italiano said: "West Ham were one of the strongest teams in the tournament and they reached the final, confirming their strength.
"They have high-quality players, very strong. But we also reached the final so we are also strong and we are here to play all our cards. We are ready for it."
Tags