Moore puts comeback celebrations to bed as Owls focus on final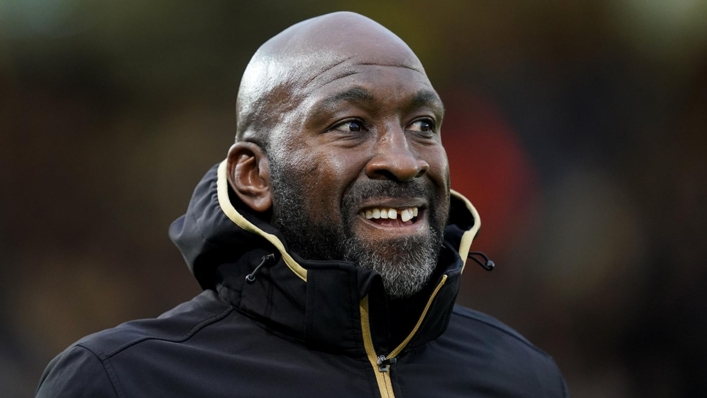 Sheffield Wednesday manager Darren Moore insists his side are completely focused on preparations ahead of their League One play-off final against Barnsley.
Wednesday reached the final in extraordinary circumstances after pulling off a stunning comeback against Peterborough in the second leg of their semi-final clash.
Moore's side rallied to win 5-3 on penalties after overturning a four-goal first-leg deficit to win 5-1 after extra time, but the Wednesday boss insists their attention is now firmly on Monday's final.
"(It's been) a normal day's training, normal day's work as it's been throughout the week and that's been that really," Moore told a pre-match press conference.
"It was a good night for everyone connected to the football club but once we got back into training, it really was that game is over and finished with now and it's focusing on training, getting ourselves right and getting mentally and physically right for the game on Monday.
"Let's not beat about the bush, we don't even talk about the comeback because the comeback's gone. That was then, it's gone.
"When we got back in training we just focused on the next game up, which is the final.
"The comeback, talking about that is down to the media world doing that because of the interest that it created, but we can't do anything about that.
"The only plan we had was to work hard in the game, we went in with a game plan and it was nice to come out the other end and see that game plan come through.
"Afterwards, I leave the talking to you guys, but internally within the football club that's gone and we're just focusing on the final and our preparations have been about that."
There are no fresh injuries for Wednesday, with Marvin Johnson and Dominic Iorfa both available to play, but Moore also hinted that George Byers, who has been sidelined since March, could potentially feature at Wembley.
"George is doing really well, I suppose the supporters will have to see if he is involved on Monday, but I wouldn't want to say anything too much now," Moore said.
Lee Gregory is also ready to go for the final after a club appeal to find his protective face mask was answered on Sunday.
The striker lost the specially fitted mask during celebrations at Hillsborough after the second leg, but it was retrieved following a social-media shout-out and Moore thanked the fan who returned it.
"Thank you to the supporter for bringing it back for us!" Moore said.
"That's very kind because it just meant Lee could train all week, which he has done, whereas before, without it, we would've had to have had another one made and he might missed a few days of training.
"The mere fact he's been able to train all week has been really good, so thank you to the supporter for answering that rallying cry and bringing it back."
Tags